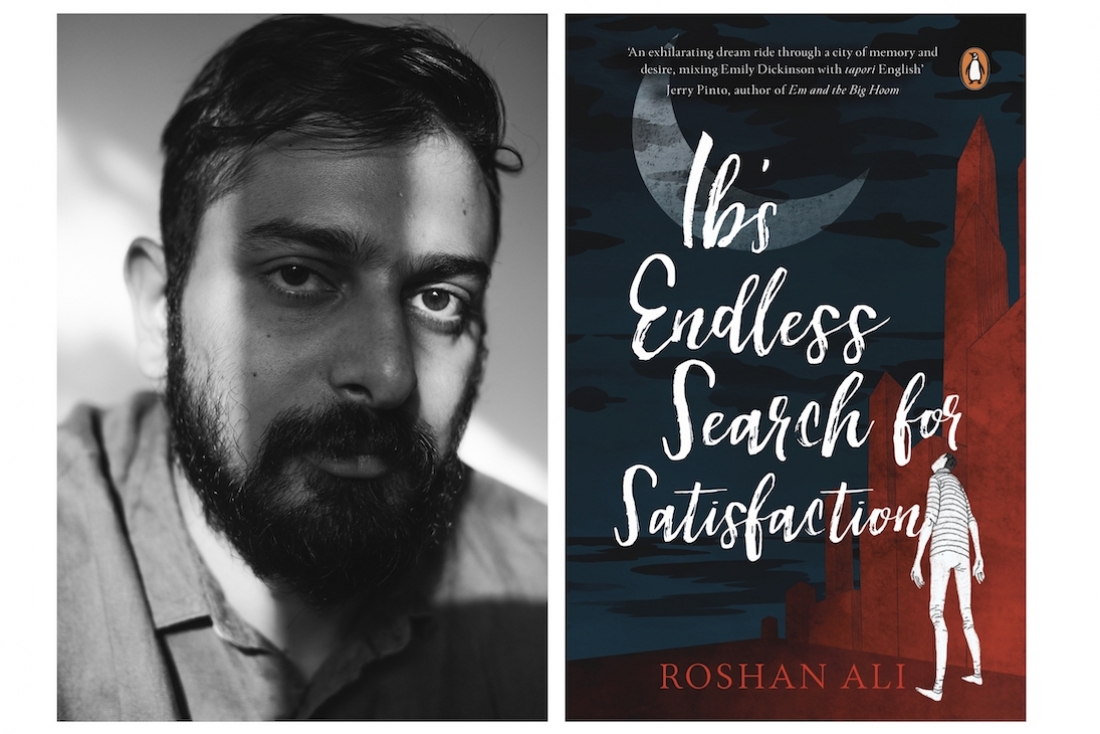 The Writer
I stumbled into writing in college. A programming course had filled up and the next best thing in my mind was a poetry course. So I went for it. And over the following few months poetry exploded from within me. This was when I first realized that there was something inside me that needed to express itself. Switching from poetry to prose was an easy decision because my poems were horrific.
I would have to say Ulysses by James Joyce was the first book I engaged with as someone who wanted to write. Bad decision. It took me at least a year to get over its influence and even now it makes me feel like there's no point in writing anything. The second big influence was The Adventures of Augie March by Saul Bellow. This book had an altogether more productive and peaceful effect on me because it put me on the path to what finally became Ib's Endless Search for Satisfaction.
The Book - Ib's Endless Journey for Satisfaction
'And then finally I felt sadness, aided perhaps by those futile notes, by the dust that keeps thickening, by the untouchable past, the inevitable future, and by everything else that pushes us around.' Ib lives with his schizophrenic father and his 'nice' mother negotiating life, not knowing what to do, steered by uncaring winds and pushy people. From his slimy, unmiraculous birth to the tragic death of a loved one, Ib wanders the city, from one thing to another, confused, lost and alone, all the while reflecting on his predicament. He is searching for something-what he does not know-and must overcome many obstacles: family, religion, love and, finally, death. Will he be defeated by 'this wreckage of modern life?' Will a mysterious woman lift him out of the 'cement' in his soul? In this journey of sadness and self-reflection, Ib transforms into an ordinary man from an ordinary boy and along the way, tries to figure out life and understand himself. In this audacious debut that is insightful, original and deeply disturbing, Roshan Ali's play of language is nothing less than masterful.
The Inspiration
I don't think I was ever 'inspired' in the common sense of the word to write Ib's Endless Search for Satisfaction. There was never any positive surge or emotional swell. It was more of an obsession, an inexplicable, restless urge. If you really want to reduce it to the question of 'what I wanted to say' – I think I might have meant it as a treatise on loneliness and sadness.
The Process
Initially I was helplessly seduced by the great books that I read. Ulysses I mentioned above. Others included Lolita, Portrait of an Artist as a Young Man, Tropic of Cancer, In Search of Lost Time etc...Over time I had to break away from their influence and try to insert more of myself. But because I was so taken by these books I always felt that my writing was lacking and thus I would end up paralyzed by self-hate. This meant for long periods of time I didn't go back to my writing. It was only after reading The Adventures of Augie March that I finally found a voice and when I found my voice I began to speak about myself. I never worked regularly and that is why it took 10 years.
The Challenges
I think the biggest challenge was trying to find a voice for Ib. I never struggled with content much. But I wanted Ib to sound odd, unique. Style is very important to me and it took a lot of effort – both physical and mental – to find a style. The second was trying to be disciplined and to not listen to the negative parts of myself that told me that I sucked.
The JCB Prize Shortlist
I am astonished to be shortlisted for the Prize. And ecstatic. A little out of place with all these great people who have been through so much. I have done nothing! Yet it feels wonderful to be counted amongst them.
The Future
I am working on my next novel. It's too early to talk about it but I envisage it to be a more expansive novel than Ib's. This is my future literary ambition – to finish this novel.