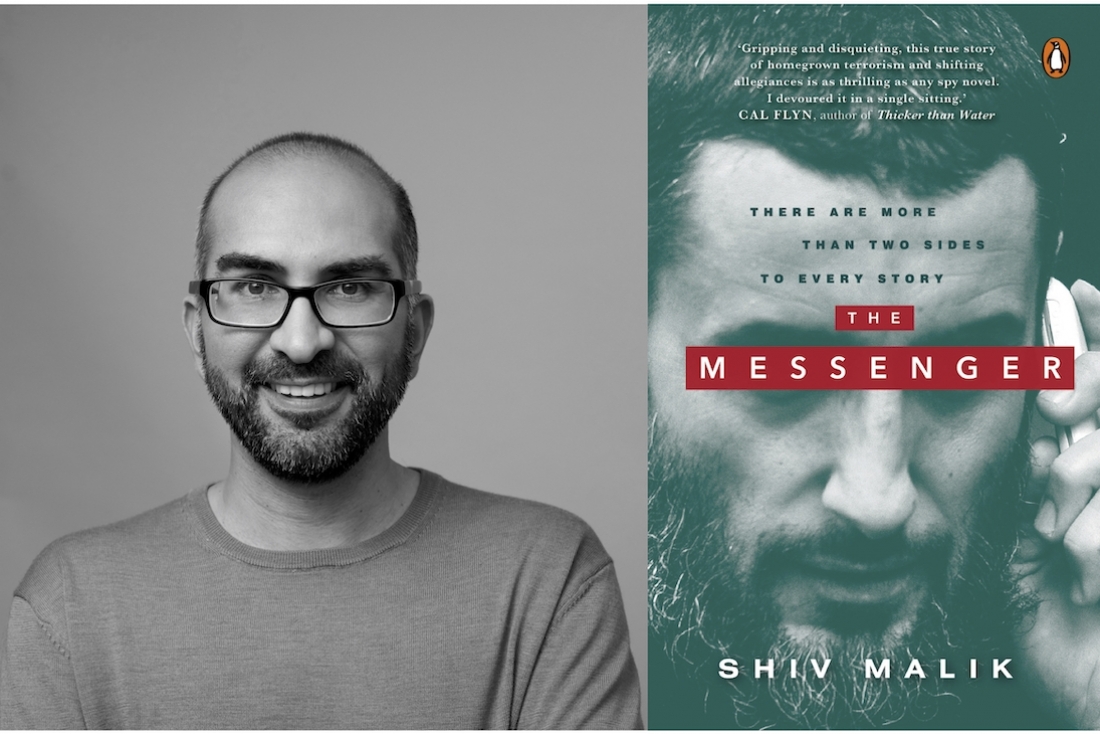 If you google the name Hassan Butt, like I did immediately after I finished reading Shiv Malik's The Messenger, the first result is surprisingly his Wikipedia page that clearly states his connection with Radical Islam and the second result is a BBC report about his imprisonment for orchestrating an online fraud. Aptly, the latter is also the end note to Shiv's book. Shiv Malik, a well known and respected journalist, also has a Wikipedia page for himself, but neither Hassan's nor Shiv's Wikipedia page connected the two in any way at the time I read them. It is only through The Messenger, which is a piece of non-fiction, that the two come together and the story of an unlikely friendship is explored between a repentant jihadist and an idealistic journalist. What unfolds is a tale that seems so much stranger than fiction that it made me google almost every incident and every name mentioned in the book. Needless to say, almost everything the author mentions in the book has been reported in real time, making the book even more intriguing and unavoidable. At the back of the book, the blurb ends with the sentence that 'this is investigative journalism and storytelling of the highest order,' and it certainly is.
We had a chance to speak to the author about his book. Excerpts from our conversation follow:

Tell us a little bit about yourself and how you were led to the world of Journalism.
I'm Indian by descent but I was born in the US and have lived in London since age five. One way of answering this is that when I was 23 The Guardian newspaper offered me a scholarship to study an MA in journalism and it was an offer that was too good to refuse. But I was always attracted by the idea of being an investigative journalist because the job seems to stand at the intersection of two things - the prospect of changing the world, whilst also granting a license to ask any question you choose, which is another way of saying that you get to go on a series of adventures. Who wouldn't want that job? Travelling the world to interrogate the most fascinating people, whilst also getting paid to undercover crimes and injustices. It sounds awesome, doesn't it?
What inspired your debut book, The Messenger?
I met the main character investigating the July 7th London bombings back in 2005. He was a British jihadi who had funded the Taliban and previously threatened to become a suicide bomber. Representing the BBC, I visited him to grill him about his background. Then a few months later, he wrote to me to say he'd been having doubts and had effectively quit his terrorist network, otherwise known as Al Qaeda. He wanted to know what he should do with his life. I told him he should write a book about his experiences. He asked if I would write it with him and I said yes. I regret that decision to this day.
Could you give us a blurb on the book in your own words?
You're taught as a journalist, never to betray a source. But what if that source betrays you? The Messenger is about an unlikely friendship between a journalist and a former jihadi. When the police show up, stories unravel, people are betrayed, and the dark corridors of power are exposed. And every word is true.
What was the creative process like and what kind of challenges did you face while writing this book?
The short version is that writing this book helped ruin my marriage. The longer version is that it took 14 years to eventually get something out of this saga. Usually when there are delays like this it is the author's fault - the writing stalls, they have creative pangs. But as a journalist you're trained to write quickly. And to an extent, I got it all down pretty fast. It was everything else that went wrong. The book in its first incarnation was halted by the Greater Manchester Police when they took me to court to seize my manuscript. I tried to fight them off. Then after I re-wrote the whole tale following Hassan Butt's betrayal (and further unbelievable plot twists), he was arrested again a few months before publication of the new book. That meant delaying until he'd been put on trial which took several years. Then that first trial collapsed after interference from a police officer on the jury and the re-trial took another year. Only when Butt had been put behind bars for fraud for 13 years last year (well over a decade since we first met), could we safely schedule publication.
In the meantime, drawing everything out like this created a lot of tension between me and my wife and she had to suffer all these travails right from the start of our marriage. Read the book and you'll know how disturbing it is not to be able to separate fact from fiction. That really infected what should have been our honeymoon period with a darkness which was never really expunged.
What do you wish the reader takes away from your work?
That fear, especially fear of terrorism, causes us to do increadibly damaging things to ourselves as a society because we seek out simple narratives that promise to return the world to how it once was. You can not of course live past moments, but the desire to follow that pursuit is what causes so many horrific consequences.
Lastly, what's next?
I'm writing a book tentatively entitled the Taxonomy of Intimacy. Like The Messenger, it's also non-fiction. But if I say any more I'll ruin it entirely!
To read our review of the book, pick up a copy of our October - March bi-annual print issue, now on stands!

Text Nidhi Verma