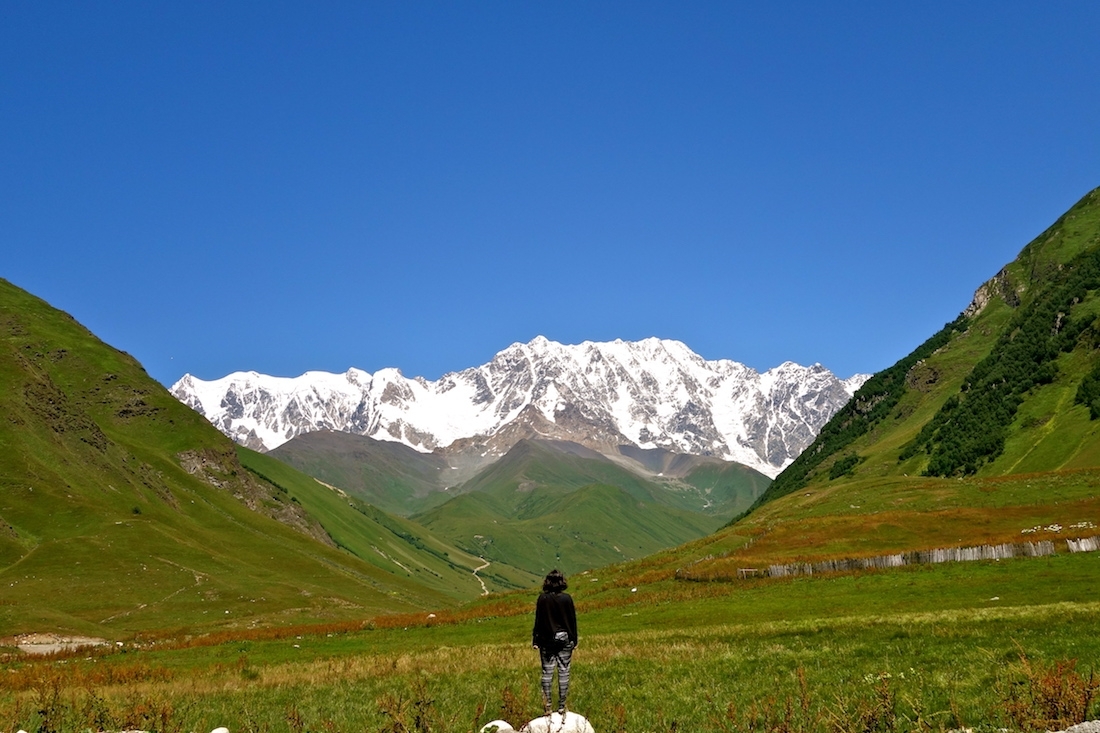 Shivya Nath
The Shooting Star: A Girl, Her Backpack and the World
Shivya Nath quit her corporate job at age twenty-three to travel the world. She gave up her home and the need for a permanent address, sold most of her possessions and embarked on a nomadic journey that has taken her everywhere from remote Himalayan villages to the Amazon rainforests of Ecuador. Along the way, she lived with an indigenous Mayan community in Guatemala, hiked alone in the Ecuadorian Andes, got mugged in Costa Rica, swam across the border from Costa Rica to Panama, slept under a meteor shower in the cracked salt desert of Gujarat and learnt to conquer her deepest fears. With its vivid descriptions, cinematic landscapes, moving encounters and uplifting adventures, The Shooting Star is a travel memoir that maps not just the world but the human spirit. We had a chance to interview the travel blogger post the recent releaseof her book on her journey so far, both within and across the globe.

Please take us to the very beginning of your intent to travel and walk us through your journey to finally the birth of your blog The Shooting Star.
I didn't really catch the travel bug until my early twenties. I was raised like most girls in India - in an average income, protective, not very adventurous family. In retrospect, my childhood in Dehradun (then a sleepy small town) feels like a bubble within which my dreams and ambition were contained. The opportunity to go to university in Singapore slowly began opening up my world. By the time I finished college and scored my first corporate job, I had begun to feel a quiet longing I couldn't quite explain at the time. Two years into my full time job, I felt burnt out and took a 2 month unpaid sabbatical from work, spending the first exploring parts of Europe with a friend and the second, volunteer travelling by myself in a remote Himalayan desert in Himachal Pradesh. The latter put my life in perspective. I knew I didn't want to spend the rest of my life chasing money at a 9-to-5 job… and I knew I wanted to travel more. That became my cue to quit my full time job in Singapore and experiment with a different way of life.
My blog, The Shooting Star, was originally born out of the need to pen rants about everyday life that I couldn't always find friendly shoulders to unburden on. But when I began traveling, The Shooting Star evolved into a travel blog, a place for me to share my adventures and encounters on the road, especially as a young Indian solo female traveller. That was nearly seven years ago. I now make the majority of my living as a travel blogger.
What led you to write a memoir of your travels via your recent book The Shooting Star?
Two years after I quit my corporate job, I gave up my home and the need for a permanent address, sold most of my belongings and started living nomadically. I stay in a place for a few weeks or as long as it inspires me and then move on.
At age 29, four years after living out of my two backpacks, travelling to remote corners of the world and accumulating plenty of misadventures and life-redefining moments, I felt like it was time to pen my journey into a book. I had stories I needed to tell, but more importantly, I wanted to share with the world that we don't have to settle for a 'normal' life if we don't want to. If a twenty-something girl from small-town India can challenge societal conventions and expectations, so can anyone else who chooses to.
The Shooting Star charts my journey from the cubicle to the road and from small town India to the world, offering unusual perspectives on travelling, relationships, patriarchy, working in a cubicle and calling one place home – through my (mis)adventures around the world.

What is your relationship with writing like? Do you do it out of necessity since you are a blogger and now a writer or do you like the art of writing.
I remember writing poetry on scraps of paper as a kid and hiding it in places no one could find! Writing has been an outlet for me for as long as I can remember. And yet, I've never thought of myself as a writer. I hate the idea of confining myself to the rules associated with writing and sometimes I unfollow grammar nazis on Twitter ;)
What I love is the art of storytelling, and the way words can be weaved together to tell powerful stories that can compel people to rethink their entire lives.
What is the story behind the name "The Shooting Star"?

Shooting stars are like fleeting moments of "magic" in the sky – and that's how I think about life and my travels too.
At what point in your journey so far did you actually make the decision to just let go of your home and most of your possessions to simply travel and were there any specific incidents or experiences that led to this decision, if so, please share them with us.
In 2013, two years after I quit my full time job, I had moved most of my work online – which meant I could work from anywhere in the world as long as I had access to the internet. So one dull and starless night in Delhi (where I lived for two years), I felt the call for more adventure and decided to give up the apartment I was renting, sold much of what I owned and travel indefinitely with only what fits into my bags.
Nearly five years later, through the process of writing my book, I've been able to introspect about the small triggers that led to this major decision – one that has taught me to live more freely, without the baggage of the things we own and the relationships we cling to.
A quote from the book, The Shooting Star:
"The world is full of books, movies and stories about how the loss of a loved one, or a change in fortune, or a severe illness or another tragedy of such magnitude catapulted someone to reset their lives and chase long forgotten dreams. I'm thinking of Cheryl Strayed, who hiked the Pacific Crest Trail solo after the unexpected and heartbreaking death of her mother, and Elizabeth Gilbert, who embarked on a year-long journey around the world after a painful divorce and depression. I admire their grit to pick themselves up and do something extraordinary in the face of tragedy. But what about the tragedy of a mundane, average, unfulfilling life?"
If you had to choose, which travel experience would you place on top of your favourites list and why.
It's really hard to answer that question! But some of my most memorable travel experiences include living with the indigenous Quechua people of Ecuador, hiking in the Simien Mountains of Ethiopia, spending time with the indigenous tribes of Odisha and exploring Georgia in the Caucasus region.
I think each of these experiences pushed me out of my comfort zone in different ways, yet let me feel a sense of belonging in a faraway part of the universe.
You've written very well delineated pieces on your blog about how to travel and blog about it. What would be your advice the new travel bloggers regarding the challenges they will face and how to overcome them?
The travel blogging landscape has become more saturated now than ever before, and it's easy to feel like there's no space for a new voice, that everything has already been written by someone else and that no one is reading you.
My key advice is, don't try to fit in: The last thing you want to do is write about an experience that has already been written about tons of times. Think of what makes you different, what you bring to a new reader. Instead of being like everyone else, find your own voice, niche and passion in travel. Do what you can to stand out.
For girls of all ages in India, there are still alot of societal restriction that they are bound by. How do you think women can fight them and become self sufficient and chase their dreams like you have?
I think women, especially those of us who have roots in India, need to stop thinking of ourselves as victims. I know we're bound by societal expectations, but we are also mentally strong, physically able, capable of financial independence and passionate about the things we believe in. We need to use that to propel ourselves forward, break away from the demands made of us and fight the fear within each us. Some things that have helped me along the way are surrounding myself with positive people who encourage me to keep going (online when it's not possible in person), reading about women who're challenging conventions and trying to journey within myself (through solo travel and solo hiking) to convince myself that I'm capable of fighting the battles that come my way.
We have one life, and we can't spend it on someone else's terms. When we genuinely start believing that, no dream is impossible.
Lastly, what's next for you?
I'm currently in the midst of planning events around the country, especially in schools and colleges, to talk about the idea of an unconventional life – and other themes in the book, including solo travel, archaic social conventions, veganism and travelling mindfully. I also have some projects lined up in the sustainable travel space – and travel-wise, I'm hoping to spend 2019 exploring Central Asia, Iran and more of South America.

TEXT Nidhi Verma