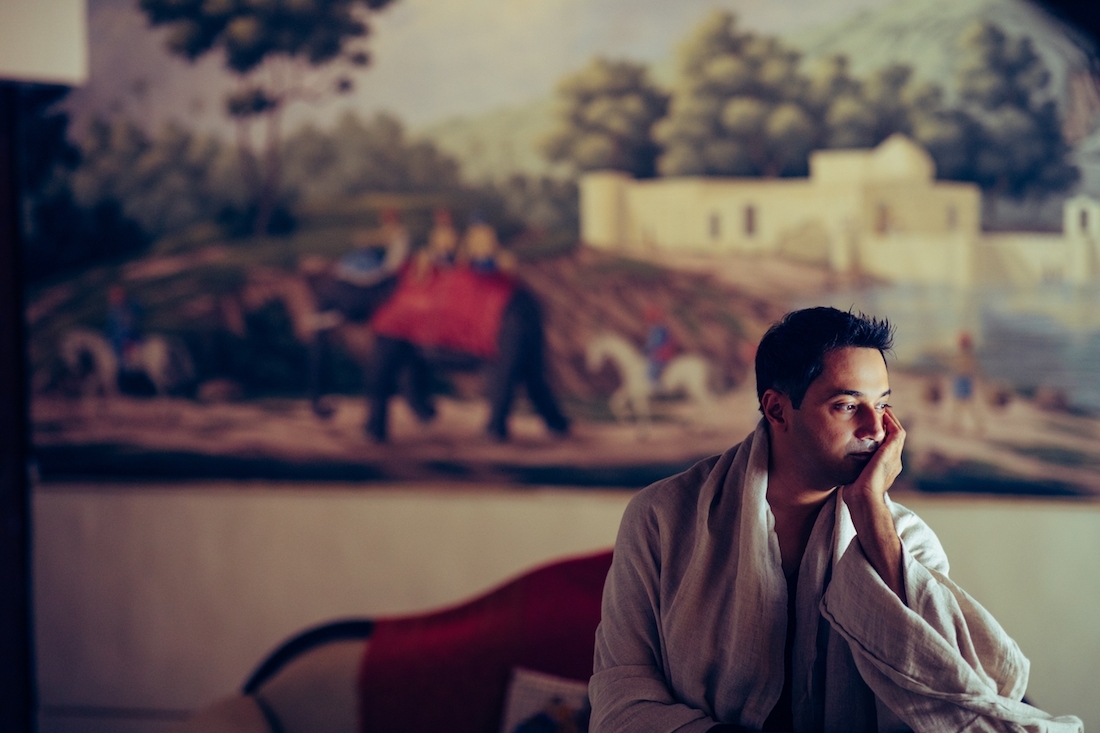 INTERVIEW OF THE WEEK
Photograph: Shekhar Karambelkar
Siddharth Dhanvant Shanghvi
Gift of the Word
As a child growing up in the forest town of Matheran in Maharashtra, Siddharth Dhanvant Shanghvi wrote skits and stories to entertain his family. The skits involved his teenage cousin and her boyfriends, one of who stole her money. The skits were popular only because local entertainment, in a hill station accessed by foot, was jump rope. 'Naturally, I came a close second. Actually, it was a tie. It was jump rope. Me. Or death.' And that was the beginning of his writing life.
Many years after his multiple award-winning debut, The Last Song of Dusk, and The Lost Flamingoes of Bombay that was shortlisted for the Man Asian Literary Prize, comes an endearing new illustrated novel that makes me want to know more.

Your words have always been delicious, delicate and dangerous, even. What made you want to play with pictures this time by creating The Rabbit & The Squirrel?
I was staying at the home of my friends Stina Wirsen and Pompe Hedengren in Stockholm. One night I went out to dinner and when I came back, their front door refused to open. The neighbour called a locksmith who, after a failed intervention, yanked out a blowtorch from his kit and burned a hole through their front door. I was, in effect, the house guest from hell.
When they returned, I knew I had to handle this one elegantly. I asked them, 'May I tell you a story?' This was The Rabbit & The Squirrel. On hearing it, Stina—who had tears in her eyes—asked me, Can I illustrate this fable for you? I said Yes! At that time, if she asked me to jump out of her apartment I'd have done it—anything to amuse her.
Pompe, a design guru in Scandinavia, graciously offered to serve as art director for the book. It all came together naturally, organically. I never thought I would publish this book.

Exploring subjects as sexuality, love, friendship and absurdity through a literary graphic book is rare for contemporary Indian graphic literature otherwise so full of autobiography and activism. What made you choose fiction?

I don't explore subjects in particular; I tell stories, if they spontaneously touch on ideas and beliefs as the ones above then I am lucky. The Rabbit & The Squirrel was drawn out of a long, dark mood of longing—the characters' colourful love lives, their spiritual battles and shrewd view of time and its discontent.

Is it a fairytale or a fable, or is it both and none?

It's a gift I made for a friend. You can make what you like of it, the story belongs to a reader's imagination, and I don't wish to influence that process.

Why those two characters in particular... what do they symbolise and is it a modern adaptation of the old tale from kindergarten?
The Rabbit & The Squirrel are allies and friends, with a tremendous instinct for love, quietness and curiosity, much of it marshalled for each other. Equals of heart and mind they are divided by fate, and their own cowardice to act on their convictions. Reunited much later, they are now aware of their love, and how immune it is to fate's fury. These things work out—just not in the way they might have thought. But they do.

Why is the animal a very important part of the human? Why is it often the best depiction of a character representing the otherwise very complicated creatures that we are?
Animals relay important themes. The Cow, of course, is a great reminder of the state of politics in this country, and our terrible failure of humanity.
The Rat represents a particular kind of Great Indian Billionaire—stealing, fleeing, stealing, fleeing.
The Bitch is an important leitmotif in the literary world, and some count me its evidence.
"The Bitch is an important leitmotif in the literary world, and some count me its evidence."
When did you first meet Stina?

I acquired Stina's art work in Stockholm years ago. Later, my Swedish gallerist, Mia Klintewall, introduced me to Stina. We became friends. I showed her work in Goa at Sunaparanta. Stina is Sweden's most beloved writer of children's literature—hundreds of thousands of copies of her books sell in her country. I am lucky to know her, and lucky she chose to illustrate this little tale. Moreover, Stina and her husband Pompe are the most correct, gracious and kind people I know. When I grow up, I'd like to be like them but let's face it: the chances are slim.


You have grown tremendously as a writer and patron of the arts in diverse ways. What makes this journey so rich and what keeps you motivated along the way?
What makes my writing valuable to me are readers, who gift me their solitude. For readers, the keepers of language and quietness, The Rabbit & The Squirrel is my submission.
As honorary director of an arts foundation, Sunaparanta, my role involves devising shows, experiencing the electric pleasure of glimpsing new tal- ent, ignoring the tantrums of some senior artists, and praying fervently that it all comes together on opening night. Our program has included solo shows by Roger Ballen, Simryn Gill, Julian Opie, Sooni Taraporevala, and William Dalrymple.
I wish I might say I woke up each morning dreadfully inspired but most days it's just waiting for the evening, then night, and then starting over.

For the first time, a graphic book featured on the Man Booker list. What does this development mean to you?

How wonderful for the author, Nick Drnaso and his book, Sabrina. However, I don't pay attention to the Man Booker Prize.

The loss of your father seems to have affected you deeply and immensely. Who are the others that have left an indelible impact on your being and your writing?
I am at peace with my father's transition. I recall he had wanted a particular kind of end—no hospital visit, no suffering. He wanted to pass in his sleep, in his bed, and he prayed that into being. So now the thing that consoles me most, now, is prayer.
I spend a lot of time chanting Namyo Ho Renge Kyo. I light the fire and I pray. This is the work I do each evening, every morning.

What are you working on and what is next?
A design show featuring works by Gunjan Gupta and Paul Mathieu for Sunaparanta. I am thinking to write some essays.


Text Soumya Mukerji
"I wish I might say I woke up each morning dreadfully inspired but most days it's just waiting for the evening, then night, and then starting over."