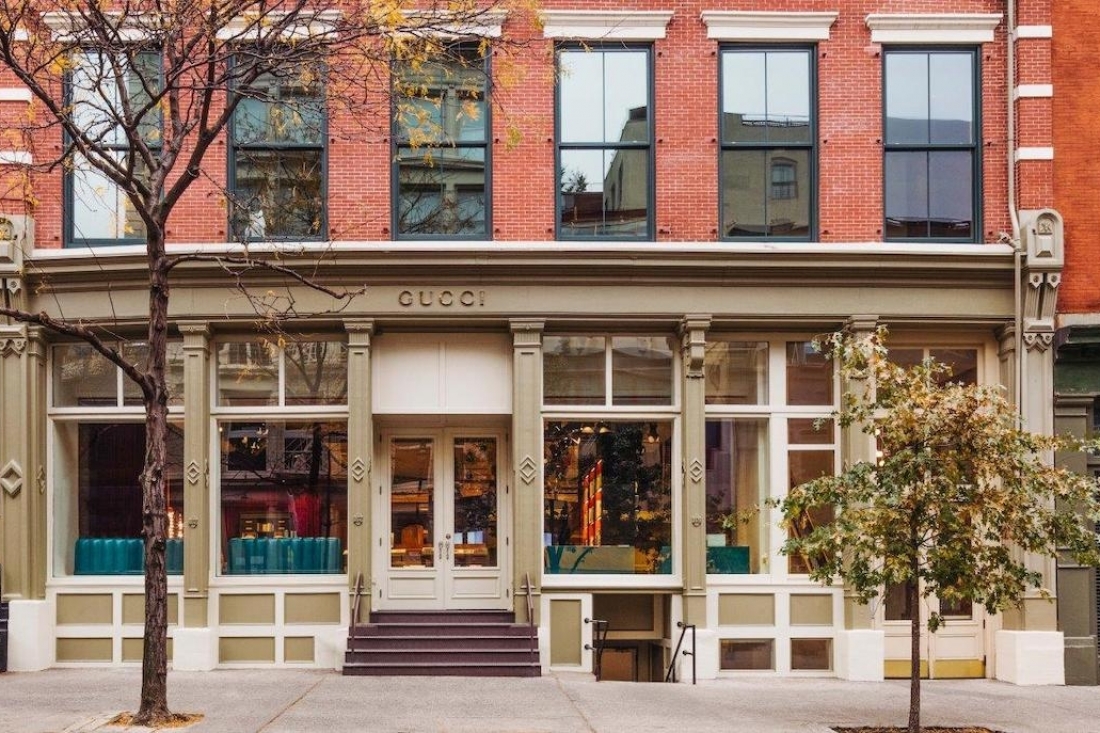 The Gucci Wooster Bookstore
Gucci Wooster located in SoHo, New York, at 63 Wooster Street has already become a destination for those seeking the creative and innovative spirit of this district, a spirit that was established during the 1970s and '80s and haunts the neighborhood still. Acting as a magnet for those who valued self-expression, SoHo became a hub for pioneering music, film, fashion and art. And literature.
It is this last facet of SoHo's creative heritage that Gucci has decided to celebrate by opening the Gucci Wooster Bookstore. Recalling the fondness of New York's small independent bookstores, the new Gucci Wooster Bookstore is catered to the truly literary souls of today. The bookstore offers delight, intrigue and self-discovery among its carefully-selected titles focusing on avant-garde art and photography. The space will further Gucci Wooster's presence as a cultural gathering space now hosting book signings and related cultural events for neighbors and creatives alike.
To give the Bookstore a unique and authentic character, Gucci has invited Dashwood Books founder David Strettell, to curate the assortment. Dashwood Books is a NoHo institution, a sublevel bookstore that specializes in contemporary photography. Opened by Strettell, the former cultural director of Magnum Photos, in 2005, the store boasts beautiful coffee-table books from internationally renowned galleries, publishers and museums. Strettell will personally source the selection of works for sale, which will comprise approximately 2,000 books. Titles will range from contemporary to used and rare books, including many out-of-print titles that continuously rotate based on Gucci's inspirations and seasonal projects. An eclectic range of niche magazines will also be featured. The bespoke selection will shine a spotlight on fashion and lifestyle, youth culture, art, interiors and architecture, illustration, design, and photography. The shelves will also house an array of works by many Friends of the House including Petra Collins, Ari Marcopoulos, Ryan McGinley, Martin Parr and Florence Welch.
Bearing its own address and dedicated entrance at 375 West Broadway, guests will be able to flow freely between the bookstore and existing space to encourage cross-discovery. In keeping with the aesthetic of the space, the Bookstore will feature pieces of restored antique wooden furniture, including bookcases and a large lectern-style reading table. The space will also be home to Gucci's latest cast of book experts including a Chief Librarian and Book Worms that will oversee the bookstore.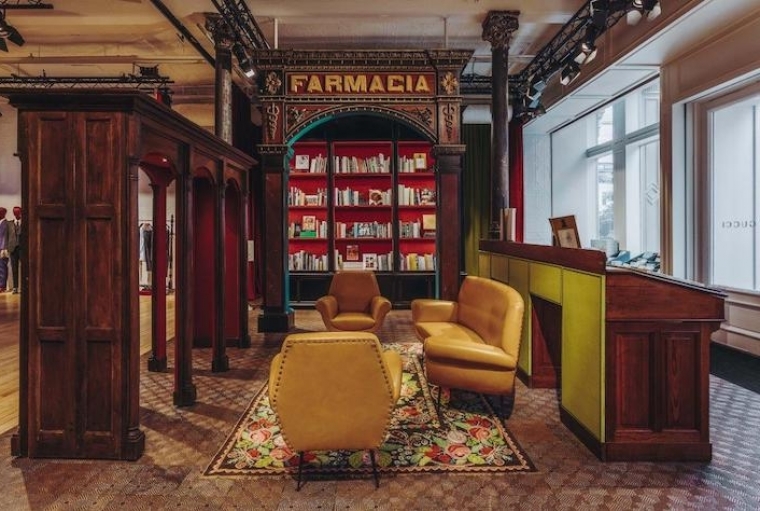 Similar to the famed Gucci Garden located in Florence, Gucci Wooster will sell a range of souvenirs and gifts, such as fabric shopping bags, pencil sets, notebooks, and sticky tape, among other products branded with a 63 Wooster Gucci graphic and a duotone green/cream pattern depicting the cast-iron architecture that has come to define the SoHo neighborhood.
The new Bookstore sits adjacent to the Screening Room, another dynamic space dedicated to cultural and creative exploration. The Screening Room celebrates independent film-makers like the Frieze-collaboration documentaries that explore NYC 1980s house music, and London acid house and Italo disco. Over the upcoming months, the Screening Room at Gucci Wooster will feature a curated program featuring various short films and film series highlighting the cultural significance of SoHo in the 1970s and 80s. For the majority of the content, Gucci collaborated with SoHo Memory Project, whose mission is to celebrate and preserve the history of SoHo, and tapped into their vast digital archive. The film program begins with Crosby Street, a short-film directed by Jody Saslow. Other content includes Homage A Anonymous Blocks: A Cinematic Ballet in Three Movements directed by Jim Stratton and a curated program of the ART/New York series produced and directed by longtime SoHo resident Paul Tschinkel. The documentaries feature interviews with prominent individuals from the New York art community as well as SoHo residents, who lived, worked and showed their work in the center of the art world at the time. The documentary features individuals such as Jean-Michel Basquiat, Robert Mapplethorpe, Laurie Anderson, Nam June Paik and more.
Continuing Gucci's cultural examination into the very core of this prolific era of art, music and film, Gucci also partnered with the Roxy Cinema Tribeca. Curated by Illyse Singer the Screening Room will feature a dedicated programming centered around avant-garde, experimental, New Wave cinema from downtown NY filmmakers including Amos Poe, Edo Bertoglio, Maripol and Sara Driver.