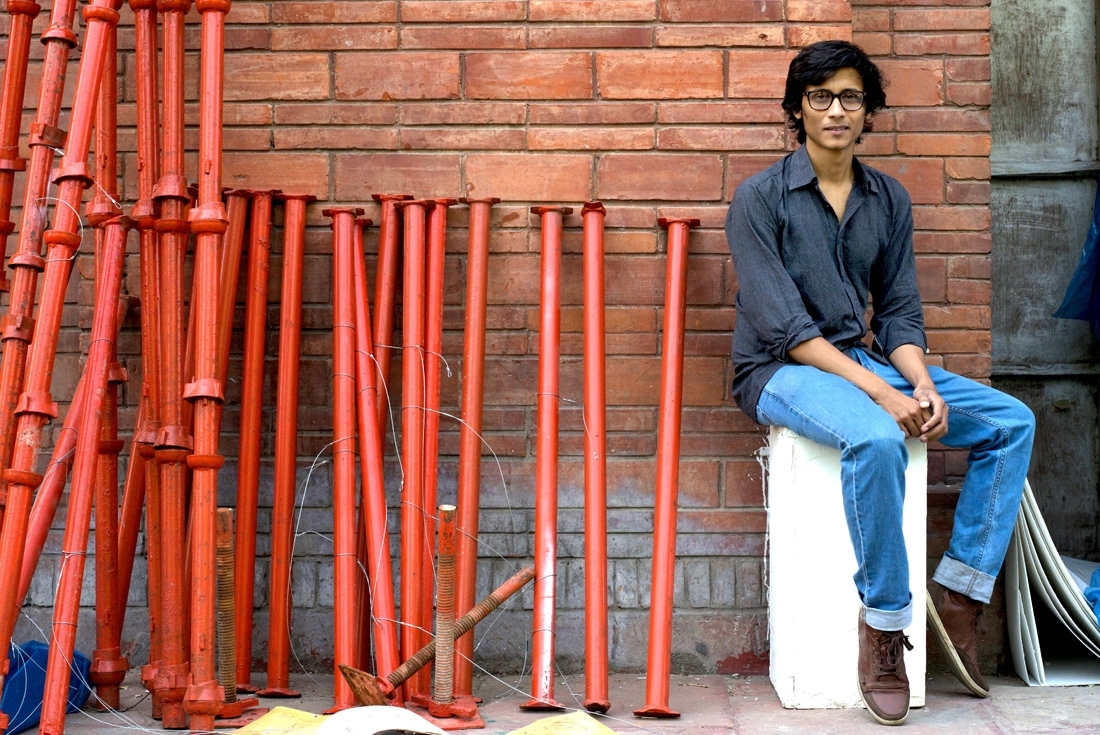 Photography by Sharad Shrivastav
Amartya Ghosh
The Sound of a Quiet Audience
All of 18, when Amartya first moved to Delhi from Jamshedpur, the only thing he had was a guitar but it wasn't so bad after all. It was this city and his 'lack of gear', he says, which motivated him to make music. And that's how he found his calling as a singer-songwriter. His self-reflective debut EP released last year, and was called Broken Compass. All his songs in the album brew nostalgia and fit seamlessly between melodious and powerful. Beautifully tempered, his tracks have a remarkably soothing and intimate quality to them. While Letter From Annabelle is an ode to a beloved [but now broken] guitar that he used while writing a lot of the songs featured on the EP, the lead single, Lone Dancer, was written while he was still a part of the rock band, Percussive Maintenance. Explorers spoke about the time he felt uncertain and disoriented. 'I wanted to record and put an EP out there because I had a lot of music which had accumulated,' says Ghosh. The musician joined forces with Delhi rock band Mindflew's Ritwik De, who took on strings, keyboard, bass, lead guitar and mixing and mastering. We spoke to Amartya to learn about his music.

How would you describe your soundscape and your genre?
Everything I write is very visual. The theme for every song comes before anything else, and that theme is usually a picture in my head. I build a soundscape around that image. So even though my first album, Broken Compass, was a more acoustically oriented compilation of my work, a lot of my other music is very different and often heavier than what most people expect it to be. After the band came about, I started composing differently because the tool available to me changed. So the genre keeps changing; the song-writing is the only thing that holds it all together, I guess.

Tell us about Broken Compass.
Broken Compass just fits together as a compilation. Most of those songs were written around the same time and had a similar feel. Unlike my other songs that I intend to release this year, Broken Compass deals with emotions of love, identity and contentment. My newer material is angrier and a little more political. I like to think of the songs on Broken Compass as self-reflective whereas the newer songs are more about holding a mirror to the world.

What is the sound you love the most?
The sound of a quiet audience! Sometimes, in really intimate gigs, when the listeners actually start listening and stop socialising, you can hear them breathe—it is the best feeling ever! I feel one with the space. I don't know if I actually hear them or I imagine it to fill up the empty spaces, but it feels great!


"Everything I write is very visual. The theme for every song comes before anything else, and that theme is usually a picture in my head. I build a soundscape around that image."
Describe a day in the life of 24-year- old Amartya—what is your songwriting process like? What inspires you?
I teach a few classes at a school in Delhi and with a wonderful organisation called Music Basti. Teaching has taught me so much about myself and about the world. Recently, I joined One World College of Music as Communications Manager, and we have some very interesting things in the pipeline. I spend most of my time at home with my two cats that are the highlight of my day. Writing music has always been an outlet for expression. I don't write music unless I really have something to say.
Easing into it becomes a lot easier when I have my subject very clearly drawn out in my mind. Everything from the lyrics to the soundscape is directed towards the effective musical replication of that image. Songs that write themselves are usually my best songs, and I like to give myself enough time to be able to reach that zone where the concept leads the way. I think being a songwriter is more about telling stories and drawing images than just executing a great musical idea.

Do you plan to experiment in other genres?
Songwriting is a very personal thing for me, and I would never compromise on that just to fill apparent gaps in my career as a musician. Having said that, I do have goals for myself. I'd love to go around the country, especially to tier two cities that are rarely touched by indie acts due to logistical problems. I'm currently planning my next album and intend to complete it this year. I'm looking forward to destroying and rebuilding the idea that a lot of people have about my music. I let the song decide the genre and that is something I'd like to keep changing over and over again.

Whose music do you often find yourself relating to?
I'm a very erratic listener. I can go for days listening to the same song or too many songs, or nothing at all. As far as influences are concerned, I find Thom Yorke's entire body of work very inspiring. In general, Radiohead is perhaps my favourite band of all time. Some of my early adventures with songwriting began with artists such as Leonard Cohen and Simon and Garfunkel. Nick Drake is another songwriter who I keep going back to. I really love indie rock acts like Warpaint, Wolf Alice, Massive Attack and Portishead.


Text Hanika Lohani Mehtani