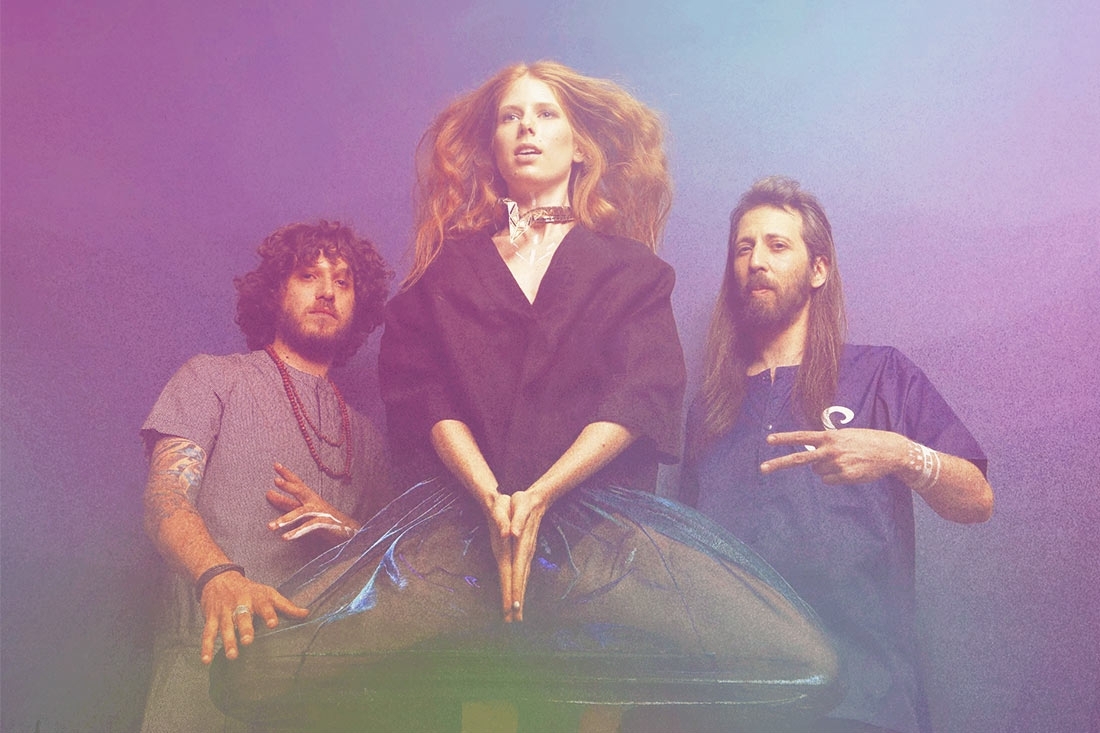 Buttering Trio by Michael Topyol
Tel Aviv's popular musical ensemble Buttering Trio is popular for crafting densely layered soulful beats with a hint of funk thrown into the mix. Their divine blend of electronic beats, fat basslines complimenting the poignant vocals is sure to keep your foot tapping and minds pleased. With three acclaimed albums [Toast, Jam and Threesome] to their name, Buttering Trio is one of the most loved groups in Israel and winning hearts all over the world with every performance. They were one of the most loved live acts last year at Magnetic Fields Festival and the tour announcement has gotten us pumped.

How did the Buttering Trio come together?
KerenDun & Rejoicer are old high school friends. Years after school, they were reunited by the power of beats. Beno Hendler & Rejoicer met a few years ago at Kicha Studios and instantly became close friends. The trio formed very naturally, just three beat-makers making music together.

How do your individual music sensibilities unite into a unique blend?
We found that in the cooperation between the three of us there is a rare flow, very little misunderstandings, and much space for personal expression. Our search as individuals was similar - we were all subconsciously looking for a buttery sensation from our music. Combined together, we found something very strong.

What are you looking forward to from VH1 Supersonic and Udaipur World Music Festival?
For us, these incredible festivals are an opportunity to give the people (and us) a good time and to pass on some inspiration.

Your ideal collabortation would be..
We record and play with musician friends from Tel Aviv - Amir Bresler, Yogev Glusman, Sefi Zisling, Eyal Talmudi among others. We once had the fantasy idea of making a tune with Q-Tip from A Tribe Called Quest…
Are there any Indian artists that inspire you?
The three of us are touched and influenced by the classic Indian music. Artists such as Zakir Hussain, Kishori Amonkar, Hari Prasad, are true inspirations.

Since your first album Toast, how has your music evolved?
Our music has been changing, as do us. We have been moving towards more jazz, bringing in surprising harmonies and melody twists. Our presence as musicians rather than mostly producers is becoming more apparent.

Tell us about the creative process; do the lyrics inspire the sound or vice-versa?
The lyrics are highly influenced by the music. Usually, there would be a beginning for a melody or a harmony, which would entail a story that the lyrics would try to grasp. After the idea is formed, the music changes again, accordingly. The songs are always alive, even after we start to perform with them.

Lastly, what else does the year hold for you?
We are working on our 4th album at the moment, as well as on our first album in Hebrew. So the year holds a lot of new music with which we are excited to be experimenting.
Buttering Trio will be performing in India on the following dates:
8th February 2018 - Auro, New Delhi
9th February 2018 - Fandom at Gilly's Redefined, Bengaluru
10th February 2018 - VH1 Supersonic, Pune
11th February 2018 - Udaipur World Music Festival, Udaipur


Text Garima Gupta