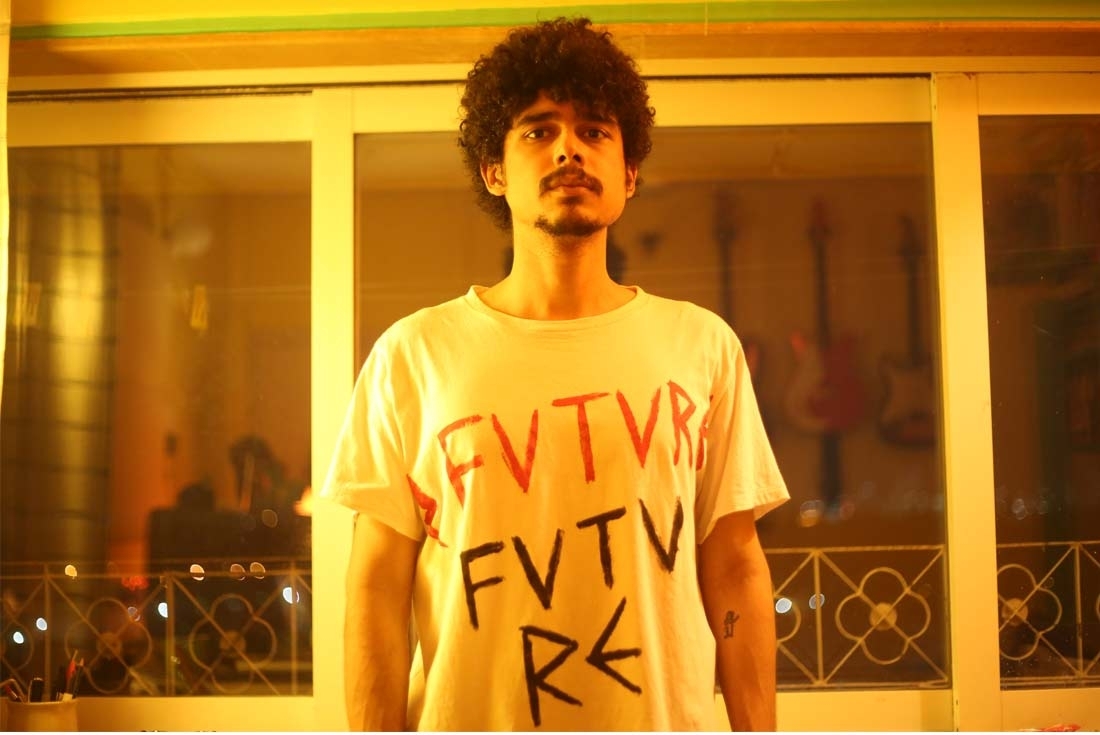 Imaad Shah/Madboy
Photography Ashmita Shetty
Abstract, moody, surreal are just some of the emotions that Dream Delite, Imaad Shah's second EP evokes in you. 'It explores sexuality, love, passion…dreaming both while awake or asleep,' he says. It is like you spoke to someone all day and sometimes used words. Shaping a new way to say what you feel—a new subtle way. Some feelings are best evoked through music. Madyboy unveils further.

Your second EP just came out few weeks ago. How is it different from the first?
It's an extension of the sound that was explored in the first record, but it does deal with different themes, even though in indirect ways. The production process was similar, though I've got some live trombone on two of the songs. It certainly builds on the abstract, moody, slightly surreal vibe of songs like 'Jellyfish', from the first EP.

Up until last year, you played as Madboy/Mink, before the boy came out. How has the collaboration help you become a better musician?
Madboy/Mink is still very much active. We just played a small Europe tour and we'll be releasing a single and our next EP, both this year- post which we go on tour early next year with the new release. The collaboration has enabled me to explore stuff I might not have done otherwise. Our touring has given us confidence as live performers and we are doing a stage musical next, at the end of the year, that I'm directing and that has involved a great learning curve as well- both as a musician and a director.
Dream Delite
Illustrated by Ayangbe Mannen
What does the title, Dream Delite refer to?
It's a title meant to evoke the sounds and moods on the album. I guess it's in reference to our associations with dreaming- both while awake and asleep. Dreams, fantasy and sexuality are the sort of things that I feel can be best evoked through music, and what I think of as my particular blend of electronic music has more than a little preoccupation with these things.

The album's sound is dreamy and evokes moods that are subtle. What inspired you to take this road?
I think songs must always come up with new ways of saying timeless things. Passion and its various forms is as old as the world itself. So towards this ideal of saying things in new ways, subtlety is possibly the most post - modern thing. For instance, this play I'm directing is in a period setting and deals with crooks, prostitutes, beggars- people on the margins of 'accepted' society. But electronic music and songwriting as we know it now, is a post-modernist and post-punk art form. And so, for me personally, subtlety and saying things in round about ways, saying one thing but meaning another, keeping lyrics ambiguous and so on, are high ideals for me. This is of course, me trying to put words to describe the process. This stuff is usually hard to analyze in words.

Although music is your forte, is there any other form of art or creativity that intrigues you? How do you fuse it with your music?
I have directed a short film that will be getting completed early next year- and have been working on two film screenplays. I've been part of a theatre company Motley for many years now, and am now directing my first play. Film and theatre are life, and in many ways for me, very hard to dissociate from music. The agenda of course, is to bring together these art forms, in my own way. For instance cinema as we know it relies very heavily on music to get the point across. But there too, there are so many traditions and styles of music and I'm fascinated by many and very varied ones.

Tell me, what is your opinion on the Indian independent music scene. Where do you see it in the near future?
Upto this point, it's basically been about bands and musicians fighting their own battles from scratch. Which in itself is a great thing- it teaches musicians, producers and promoters to be on top of their game, to accumulate knowledge and abilities in multiple fields, and to develop a creative identity that is entirely their own, and crafted by them. We are devoid of the somewhat ludicrous and bourgeois trends of the commercial music industry over the years. There is no place for a diva who plays only guitar solos, or writes nonsensical songs about puppy love or is creatively bankrupt- Well, I'm sure there is, but to some degree, worldwide music consumption patterns have forced artists to take matters into their own hands. It is still a rather skewed system- with corporations making the bulk of the revenue - earlier it was sales, now its streaming- some things tend to stay the same unfortunately, but this feeling of being kind of powerless and dependent on some invisible forces, like how we felt being teenagers in bands in the 90s, has certainly reduced.

What's the way ahead?
Right now, I'm directing a stage production of Bertolt Brecht's 'Threepenny Opera'. It's a play with music and the piece has been an obsession of mine for awhile. The cast is all incredibly passionate about the material and the songs are quite a riot. It's a dark, jazz musical with a lot of scathing things to say about the world and about human nature. It opens in November and for Mumbai and Delhi. The next Madboy/Mink release and my first short film will follow soon after that run of shows.

Text Hansika Lohani Mehtani