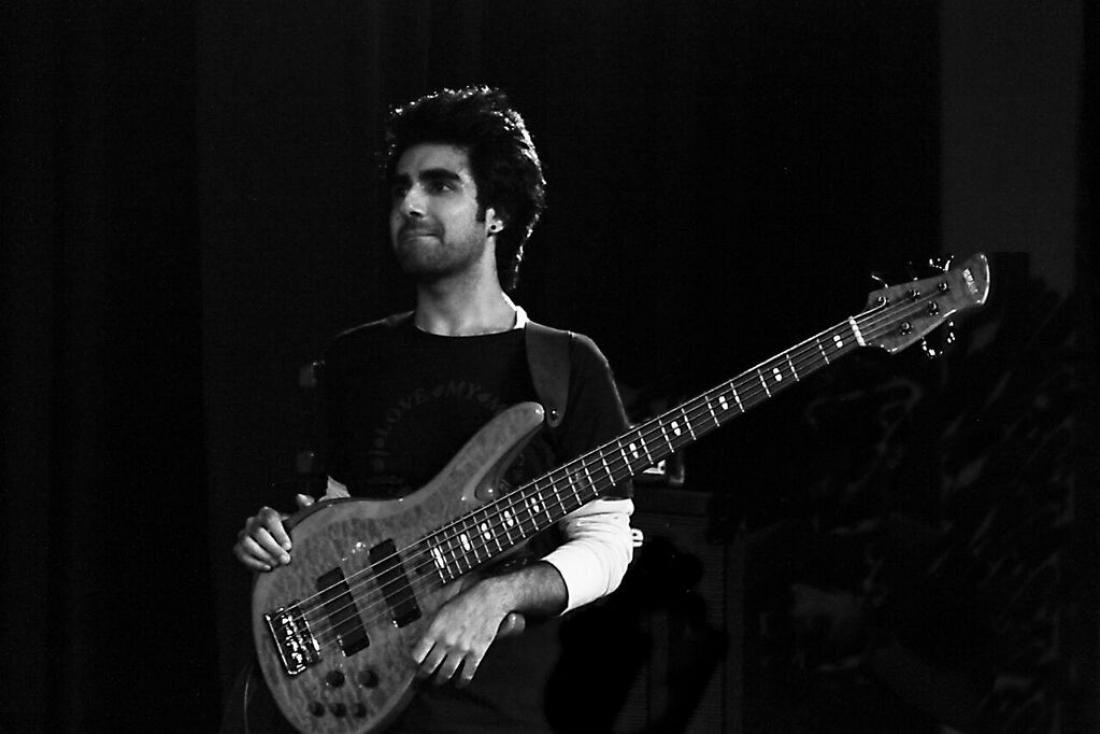 Music has been an integral part of Gaurav Balani's family for generations. His paternal grandmother was an amazing singer and he grew up listening to her practice and perform for family/friends very often. When he was in high school, his family had moved to the US for about two years and he was uprooted from his surroundings. It was during this period that his 'connection' with music became very spiritual because he felt like it was his constant companion through thick and thin. Anything that he composes has to have a deeper meaning for him. When you hear great artists like The Beatles, Stevie Wonder etc, you can hear the music evolve with their age. He tries and follows a similar pattern with his songs. Most of his compositions end up being about the things that he witnesses around him or social causes that need attention. With the release of his recent project Inalab, we had a candid conversation with the musician about his new album, the Indian music industry and his future projects.
How would you define your personal style of music?
In terms of the style of music I compose, it really varies because I've grown up listening to all styles of music (ranging from disco to heavy metal). The releases that I've had with Inalab encompass many styles of music. I have always had a hard time categorising the music in any particular genre because there isn't one particular style I can equate it with. Although, electronics, orchestral arrangements and a prominent rhythm section are some common elements in most of my songs.
What inspired you to create your new project Inalab?
Most of my career has been about touring extensively and playing live shows. I didn't realise when it happened but after living this kind of life for such a long time, it sort of starting feeling very repetitive to me. I started feeling a sense of roadblock in my musical journey. My growth as a musician felt very stagnant to me. In general, I felt like I needed to be more than 'just a bass player'. I had been composing for as long as I can remember but somehow I never made a conscious effort to push for these songs. During one particularly lean off season, I realised that I should just collaborate with musicians and complete these songs that I had been sitting on for ages. That summer I ended up producing two songs collaborating with some amazing musicians. The creative satisfaction that I felt was something I hadn't experienced in the longest time. That was the time when I realised that I need to be more consistent with the compositions and Inalab was formed.
Inalab has had four single releases so far and they've all been inspired by various experiences and incidents that I've dealt with all through my life. The first song, Bonzo, was about a stray dog that was beaten up by some gardeners for 'disrupting' their work flow by running around a park. The anger and the helplessness that I dealt during that time made me draw parallels between the incident and violence in our society in general, which in turn led me to compose the song. The second single, Illuminate, was a song that happened while I was doodling on the bass guitar one night before an early morning flight. It is essentially about being grateful for what you have. The third single was inspired by some difficult situations I was facing on the personal front and the song, Say your prayers, mirrored my state of mind perfectly.
How do you think music can highlight or bring about a change in our society since you have now collaborated with an NGO as well?
I was very lucky that I got to work with Abhinav Kakkar on this video. Him and I had a similar vision and both of us wanted to highlight this horrible social mechanism and raise our voices against it. Teaming up with 'Gavaksh' and 'Make Love Not Scars' helped us put forward some stories to a certain audience base which may have never heard of these particular causes or people. Essentially, any form of art can be used to bring about a change in the society. People don't go looking for causes or social issues to be entertained with. They go for art exhibitions, concerts or plays (to name a few). If the artists of these particular backgrounds were to highlight various causes through their art, it would end up reaching their own audience base. It's a very subjective choice and people are free to express different things through their art. I do feel a certain sense of responsibility to help bring about a positive change (in whatever capacity) in the society through my music.
How do you think the Indian music industry has evolved from the time you stepped in it?
The current Indian music industry has evolved so much since the time I 'became' a part of it over a decade ago. It can be a little intimidating at times with just the sheer number of artists and the platforms available to them. The competition has become really fierce and you have to put your best foot forward with anything you do, otherwise your work literally ends up being trashed. There are so many avenues for a musician to release their content on unlike earlier when there were just a few big brands/labels that artists had the option to work with. The scene is a little cluttered with the influx of content because in my humble opinion, too many people try to imitate trends to become 'viral' and in turn leave behind a trail of uninspired/mediocre content. On the other hand, due to the exposure provided by the internet, the level of talent has shot up immensely. We have so many world class musicians and artists that we are literally at par (musically) with the west, which was hardly the case earlier.
Could you tell us a little bit about your experience with the Indian music industry?
I've been fortunate enough to be an active part of this industry for over a decade. I started playing shows and earning a basic amount of money right after school and did the whole college/corporate circuit all through my college life. It was after college that I realised that monetarily this life wasn't going to hold up for a very long time. That's when my friend, Aditi Singh Sharma and I decided to form a pop/bollywood cover band (Groove Adda) and we ended up touring a lot due to the popularity of that music in our country.
Soon after this I was given an opportunity to be a part of Parikrama and that was a really big step up in terms of the kind of audiences I was exposed to. The kind of adulation this band receives is amazing. A few years into touring with Groove Adda and Parikrama, I got a call to play for a show with Shubha Mudgal ji and I was absolutely elated. I didn't realise at the time that I would be lucky enough to be a permanent member of her ensemble (Koshish) even after the show.
Besides touring with these amazing artists, I've been able to session on and off with other amazing artists like Them Clones, Bandish and Adi Suhail Tarun for long periods of time.
You collaborate with many artists. Tell us more about your creative process behind collaborative music projects and your experience regarding the same.
Since Inalab is essentially a solo project, the collaborative factor really helps bring in a different dimension to the creative process. The way a project unfolds totally varies from artist to artist. For instance, with 'Help me fly', Apeksha and I co-wrote the song. We mutually divided our responsibilities towards the composition and created the song together. Whereas in a few of the other collaborations that I've done, I've written the melody and the lyrics for the vocalist to perform in the recording. In another instance, with the last release - Say your prayers, Saurabh Chaudhry (Guitarist, Parikrama) ended up creating parts in the studio that weren't there in the rough demo I had sent him. It totally changed the vibe of the song for the better. I feel like there shouldn't be any rules when you're making music with another person. This frees up the artist to come with the most creative ideas that they can think off and in turn take the song to another level that I may not have been able to achieve by myself.
Do you have any more upcoming projects lined up after this?
At present, there are are two more releases that are being worked upon. One song is composed around the theme of racism and it features one of the most versatile drummer from the Delhi indie scene - Suyash Gabriel. It's a rap song, written and performed by the very talented Moulik Siddharth.
The second single is the biggest collaboration (in terms of the number of musicians performing on it) I've done till date! It features some of my favourite musicians, Suhail Yusuf Khan, Nipun Cheema, Aditya Balani and Tarun Balani. The song is co composed and sung by the inimitable, Shubha Mudgal ji. Ironically its the first song I'd ever written back in college and I'm really glad that I got to work with these stalwarts on this project.

TEXT Nidhi Verma