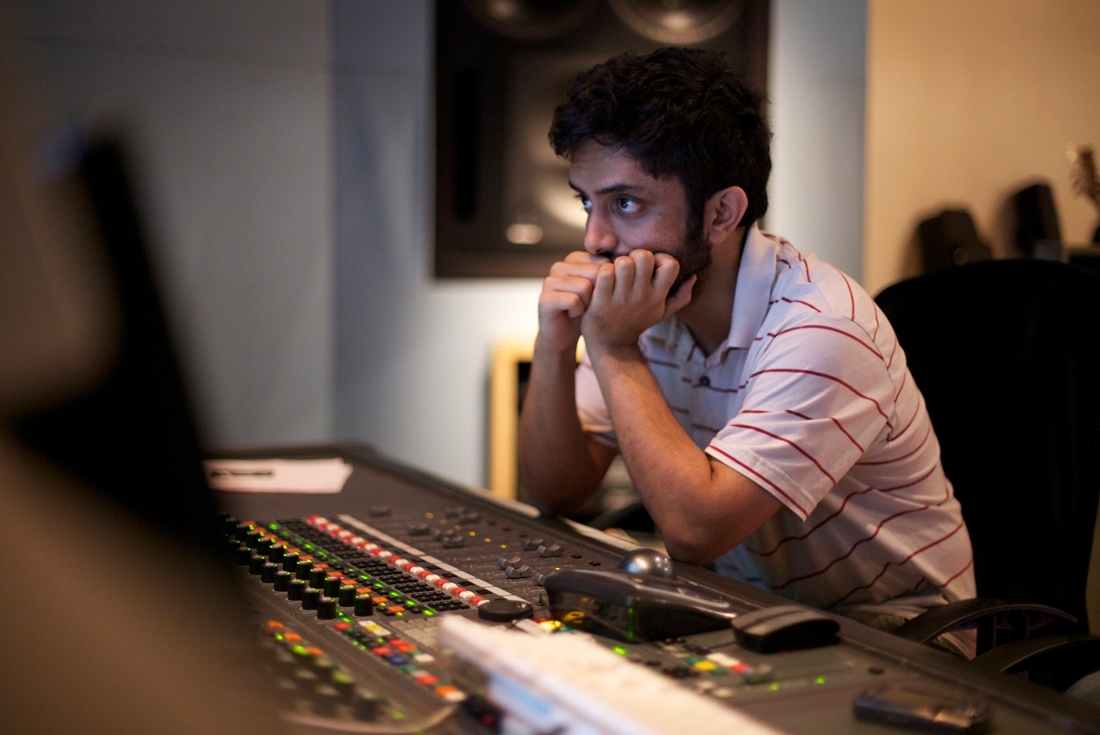 Naren Chandavarkar
At Home With Every Note
Good soundtracks are like the first few drops of rain. They rejuvenate, take one by surprise, and bring about an instant change of mood. They can also seamlessly fill the silent voids in a film. This is where Naren Chandavarkar comes in. Little over 30 with an impressive repertoire, Naren is constantly pushing the envelope with his experimental compositions to create a league of his own. The reclusive music director's first outing as a composer dates back to Anurag Kashyap's That Girl In Yellow Boots. Cut to now, he has worked with the best of the brigade—Anand Gandhi on Ship of Theseus, Abhishek Chaubey on the narcotics fueled drama, Udta Punjab, and Avinash Arun on Killa among others. Naren seems to have come a long way in all these years but speaks about his experiences like it all happened just yesterday.

How did your romance with music begin?
At home! I was surrounded by a family that loved music. My parents, grandmother, aunts and cousins all are music lovers with wildly varying tastes. From Hindustani and Western classical to Bollywood songs of the 50s and 60s that my mother and father would hear; Jimi Hendrix, The Allman Brothers Band, hippie music from the 60s and 70s and a lot of jazz that my dad and aunts would listen to; and then Marilyn Manson, Rem, Pearl Jam and Phish that my cousins would dig, there was a lot playing. My grandmother would also actively try and open us up to Indian classical which she was very passionate about. Later, when the internet and Napster hit, I spent hours and hours looking for new music. It became an obsession of sorts, finding both the latest and most obscure music. I had a school friend, Ishaan Divecha, who I later started composing with; we would take guitar lessons together and share whatever we found was cool.

How did you learn to compose music?
Tinkering around on the computer, mostly. And the internet. When I was much younger, I had seen a cousin of mine—who I really looked up to—compose music, and I thought it was the coolest thing. So I was dying to try it when I could. He would work trackers—these earlier music composition software tools where you'd input everything in numbers. I found it baffling. Later on, in college, I got my hands on a program called Reason which I found a lot easier to understand and that's when I really started getting into it more. Before that, I tried out the guitar, but it was then in college that it really took off and I started taking it a lot more seriously.

What were you doing before you got your first gig with Anurag?
I was working both as an actor and composer then, and doing a lot of work in theatre. I had composed music for a feature film shortly before that—Tripping on a Bicycle—and had just started to work a lot producing music for television, mostly for Channel [V]—we used to write songs for shows like Full On and promos for Lola Kutty. I got the job after Anurag heard the music I had composed for a play Kalki had co-written and was acting in—The Skeleton Woman. He heard it and asked if I'd like to score the film. He mentioned it randomly in an elevator and for the longest time I didn't think he was actually serious, until he sent me the script and we actually had a budget meeting.

With Udta, you entered the commercial zone as they say. How do you choose your films?
It's to do with directors we'd like to work with, scripts we find engaging, or a chance to work in a genre or musical space we haven't had a chance to explore yet. There are a lot of musicians in this industry who look at films as a source of their bread and butter, and their own personal music projects for creative fulfillment. I've always looked at composing for films as an amalgamation of many things I'm interested in, so I like to choose films that are creatively satisfying.

Is there a particular creative process that you follow?
Get to the studio. Stay in the studio and write as much as I can. It's pretty straight up! All the writers I admire have always talked about how important a routine is, getting in a certain number of hours at their desk no matter how easy or hard it may be on that day. I try to follow the same process.

Could you also briefly tell me about the collaborations you've had in the past?
Last year I worked with a Dutch composer, Misha Velthuis, for a VR game that is due to release this year—Dear Pigeon Man, and a VR Operetta installation, Die Fernweh Oper, that premiered at the 2016 Frankfurter Buchmesse. I've worked extensively with Ishaan Divecha, who is a childhood school friend. We recently worked on an indie feature, Candyflip, directed by Shanawaz N.K. I've also worked with Suhaas Ahuja a great deal—he co-composed music on Tripping on a Bicycle and co-composed the song Karmari Duniya, as well as co arranged the score on That Girl in Yellow Boots.

You share a great creative partnership with London-based composer, Benedict Taylor. You collaborated with him for Udta among other projects. How did you meet him at first?
Benedict and I met when I was in college and he was teaching Viola masterclasses at the Mehli Mehta Institute in town. A common friend was also teaching at the institute and thought we would get along. We had a lot of musical interests and great crippling thirst for beer in common, so we got along great. That's pretty much what still keeps us going. I was working on a play at that time, and Benedict came in to rehearsal one day to play improvised viola with the actors. I was completely blown away with what he did so when Anurag asked me to score Yellow Boots, I called him immediately and asked if he would be interested.
What experiments have you made with your compositions?
Many! Benedict and I come from very different musical backgrounds, so in many ways the way we work together ends up being quite experimental, as it's the fusing together of sometimes very different approaches. We use a lot of live composition and improvising as part of our process. It depends completely on the nature of the project though, some require very straight up writing, but often we try to bring in elements of writing that we find exciting in other music, like sound art, microtonal music, folk music from around the world, serialism, contemporary song writing, field recordings, modular synthesis. It primarily comes out of what we feel might best work musically for the film, but is also a way to keep the process new and exciting for ourselves. We're also always on the search for new ways to create sounds.

Tell me about the ones that turned out to be fun.
On Ship of Theseus, we created an ambient sound that repeated through most of the cues in some form or another as a recurrent motif of sorts. We knew we wanted to find a sound that would help support a feeling of vastness that Anand was very keen to create. We opened up an upright piano and ran bits of string and wool around the piano strings that slowly created this reverberated drone echoing through the body of the instrument.
On That Girl in Yellow Boots, in keeping with the main characters feelings of hollowness and despair, we used a lot of harshly bowed acoustic guitar [which sounded like a strange mix between a hurdy-gurdy and a sitar] and soft echoed chords played without striking the strings, but instead hitting the head of the guitar with a mallet while holding a chord down—which created this muffled hit and a chord that would softly bloom out, this feeling of a mind far away. All of this would play out under electric guitars pinging out into delays that would feedback into each other. Kalki's character, Ruth, was often stoned and dealing with a lot of torment through the film—so those sounds were an attempt to get into her headspace.

Do you think the Indian film industry is open to experimenting with original soundtracks?
It completely depends on the project, the director and how secure the producer is about the film. We've had the good fortune of working with a lot of directors who both gave us the creative freedom to do what we wanted, encouraged us to experiment and stood by what we all found together. It's hard to speak outside of that. Within my limited experience, it seems that with larger projects people are not as keen to push the envelope, usually keeping the imagined tastes of larger audience in mind. But then again, on Udta Punjab we didn't really have any of those constraints. So, I'd like to think so, yes!

What are you currently working on?
A horror film called Ghoul directed by Patrick Graham, produced by Phantom, Blumhouse and Ivanhoe Pictures [the producers of Paranormal Activity], a Kannada indie called Balekempa directed by Ere Gowda, the writer of Thithi. A Canadian indie shot in Afghanistan, Black Kite, directed by Tarique Qayumi. And more recently I have worked on Newton, by Amit Masurkar and a film called What Will People Say, directed by Iram Haq.


Text Hansika Lohani Mehtani