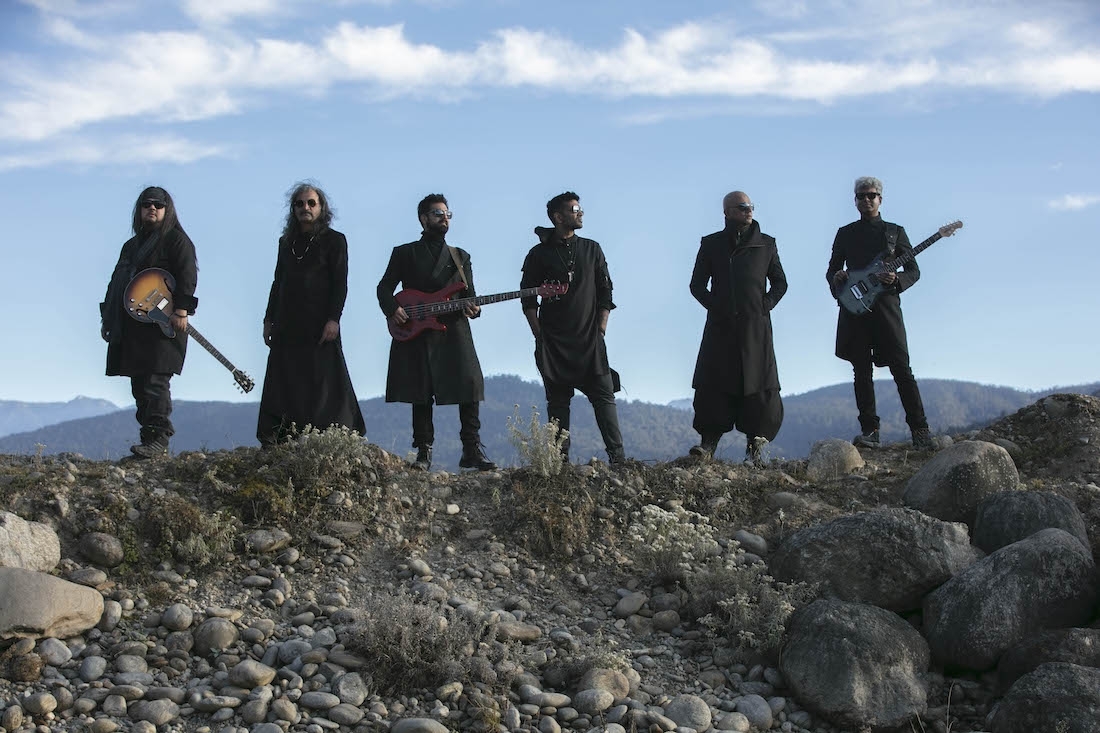 Video Still Courtesy: Ashish Gupta
It wouldn't be a stretch at all to call Parikrama the very bedrock of Independent Music or Indie Rock genres of the country. Parikrama has been rocking India for 28 years now, they've impressed heavyweights such as Iron Maiden enough to ferry them across to the mighty Download Festival UK and stayed independent in the truest sense of the term across years, consumption patterns and opportunities. Touching almost three decades in this challenging environment of Indie Music in India, the classic rock living legends continue to retain 4 of the 6 original members. The band now consist of Nitin Malik on lead vocals, Sonam Sherpa and Saurabh Chaudhry on Guitars, Subir Malik on Keyboards and Gaurav Balani on Bass along with Srijan Mahajan on Drums. They've recently released their official video after twenty years for the song Tears Of The Wizard. We got in touch with them to know more about the song and the video. Excerpts follow:
Tell us a little about your first brush with music?
Well we all got together on 17th June 1991, so the very first day, we began with an idea for an original song called Xerox, that we wrote as one of the first for Parikrama.
How have you evolved over your musical journey so far?
It's the same journey as we all face as individuals, what we are in school, we don't remain in college , what we are when we start work, we don't remain the same when we have kids, so it's a very natural and beautiful growing up. Similarly, we keep growing each day and discover something new in every session of music, cheers.
The video for Tears Of The Wizard is your first official video in 20 years. What propelled you towards making this video?
Actually we did release videos in between but they were some one else's productions. It was when we saw the place Mechuka, and its beauty, we just could not stop and went all out to work out Tears Of The Wizard for the location. You have to visit Mechuka to understand what we saw.
Walk us through the making of Tears Of The Wizard. (ideation, music, story)
Well, the song is for Gandalf the Grey from Lord Of The Rings, so we needed a grand location and with Mechuka, it was love at first sight. The story was all made by the director Sujit Jha and the Producer/Editor Sanjiv Monga. We kept making changes and fine tuning but majorly it was their script. Tears Of The Wizard, was made a while ago, for the tour with IRON MAIDEN , and is inspired by the Lords of The Rings Trilogy Part 2: The Two Towers. The song is for our favourite character, Gandalf The Grey.
What are your view on the current indie music scene in India and where do you think its headed?
I think today we have so many diverse kinds of music out there and all have their own following. The audience of today is much much maturer. They expect and accept original music and are surely much more open which is good news for all independent musicians.
What would be your word of advise to young musicians?
Be at it, have your rules chalked out before, follow them. Never do drugs and enjoy the process. Trust me, you will realise that you are blessed to have a stage to play on, if you know that before, you will cherish it, if you get to know this after you have screwed it up, you will regret it. Have fun.
Lastly what's next?
Many new songs , many new videos etc etc , Rock n Roll FOR LIFE …