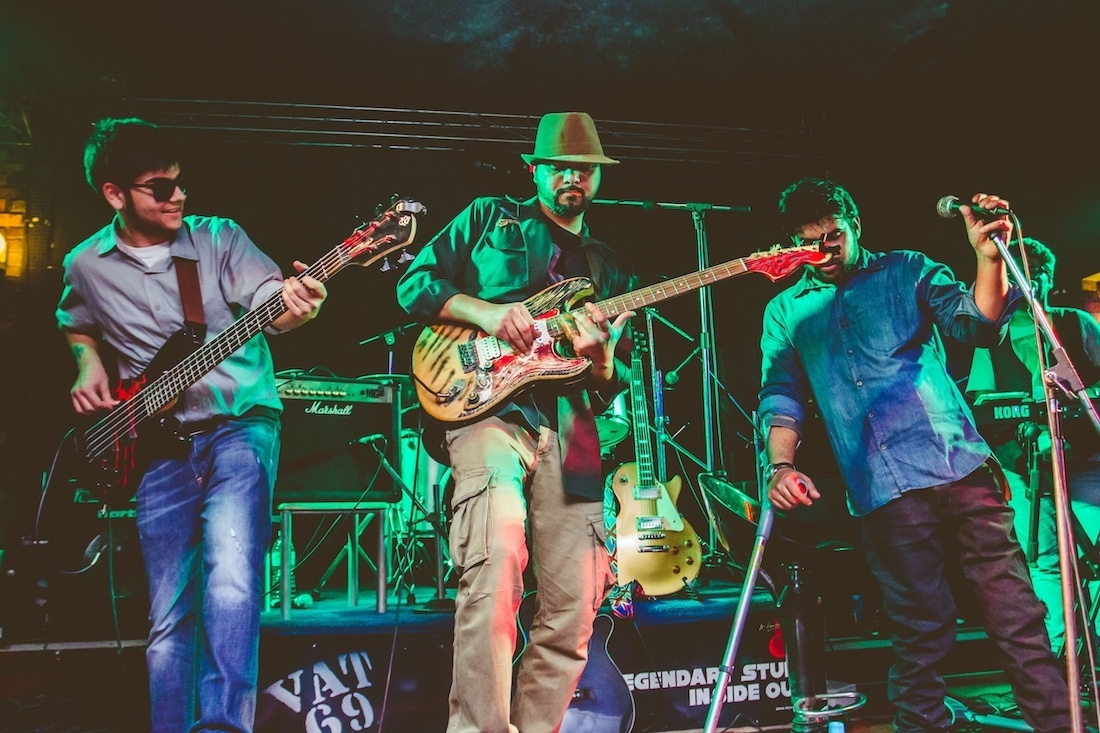 One of the country's popular Blues acts, Big Bang Blues has a new avatar which aims at exploring musicality beyond the Blues. SkyEyes has the same line-up as its popular sibling but an entirely new range of sounds that are showcased in their self-titled debut EP that was recently released. The EP has been mastered by John Davis and produced by Dan Swift, two legendary British sound-scapers, who've worked with international icons ranging from U2, Led Zeppelin, Prodigy, Pete Tong and REM to Snow Patrol, Aqualung & Kasabian among many others. We connected with the band to know more about their new musical venture!
What lead the Big Bang Blues to create a new avatar, SkyEyes?
As Diyatom Deb, Akhil Kumar and Barun Sinha joined the Big Bang Blues in 2016, the band started out with the blues, but as time progressed we came to realize that we complement each other very well on styles/genres beyond the blues as well. We started working on our originals as a band and it just naturally transitioned into the rock genre with loud and riffy guitars, hard sounding bass and drums, and strong, powerful vocals. We were faced with a question of whether we stick to our outfit and force ourselves to make originals in the blues domain or let the music take us where it wants and give in to the change. In the end, the latter prevailed and here we are.
'Multitude of Eyes that watch over us' is the thought that led us to the name SkyEyes. In the modern world, everyone has two lives — one in reality and the other in the virtual world. However, the life depicted on social media might not be the real picture; things left unsaid, the internal monologue, the talks to oneself, is what SkyEyes has tried to bring out in the songs. Experiences, Stories, Life… The way we see it.
What are some of your early formative influences in terms of music artists?
Allman brothers, Stevie Ray Vaughan, Led Zeppelin, Beatles, Toto, Eagles, Foo Fighters, Third eye blind etc.
What inspires your music? Please describe to us briefly the aesthetic of your music and what it intends to convey.
New range sounds apart from the blues include Rock, Psychedelia and Progressive.
Skyeyes is an outfit that talks about questions, questions we need to ask ourselves as a society; are we simply accepting the established norms and traditions or do we dare challenge the set standards and work towards a more emancipated future? Our job in Skyeyes in our opinion is to provoke life altering thoughts in people and for them to think and mull over the choices they make and the paths they follow. We don't claim to have answers to the questions we ask, but we find it our duty to make our listeners begin the journey of doing so.
Our lyrics and the subjects that we talk about are much more relevant, more aggressive, and with a strong personality.
Our aim is to make honest music and talk about things which can make a difference.
Tell us more about your debut EP? The creative process behind it and what kind of musicality does it explore.
SKYEYES EP has four songs with a playtime of 22 minutes. Its starts with 'Mad Man's Tale' with a modern rock sound which talks about irrespective of what or how the world thinks, a mad man also has rights to have thoughts and to express them. The second song 'Betrayal' is a dark and heavy ballad around a story about betrayal, forgotten times, being stuck in dark claustrophobic moments, broken promises and dreams this world makes you believe in. The third song 'Last Train' is a RocknRoll song talking about hope, love, and the passion of pursuing a career in music. The fourth song 'Letter to my father' is a rock song with some psychedelia and progressive elements, which talks about, A conversation that an Indian middle class son might never have with his hard working-inexpressive short tempered father.

Lastly, what's next for you?
Compose more originals, play bigger festivals, get out more recordings both albums and music videos, do international shows, help promote western music scene in India in a major way.

Text Nidhi Verma