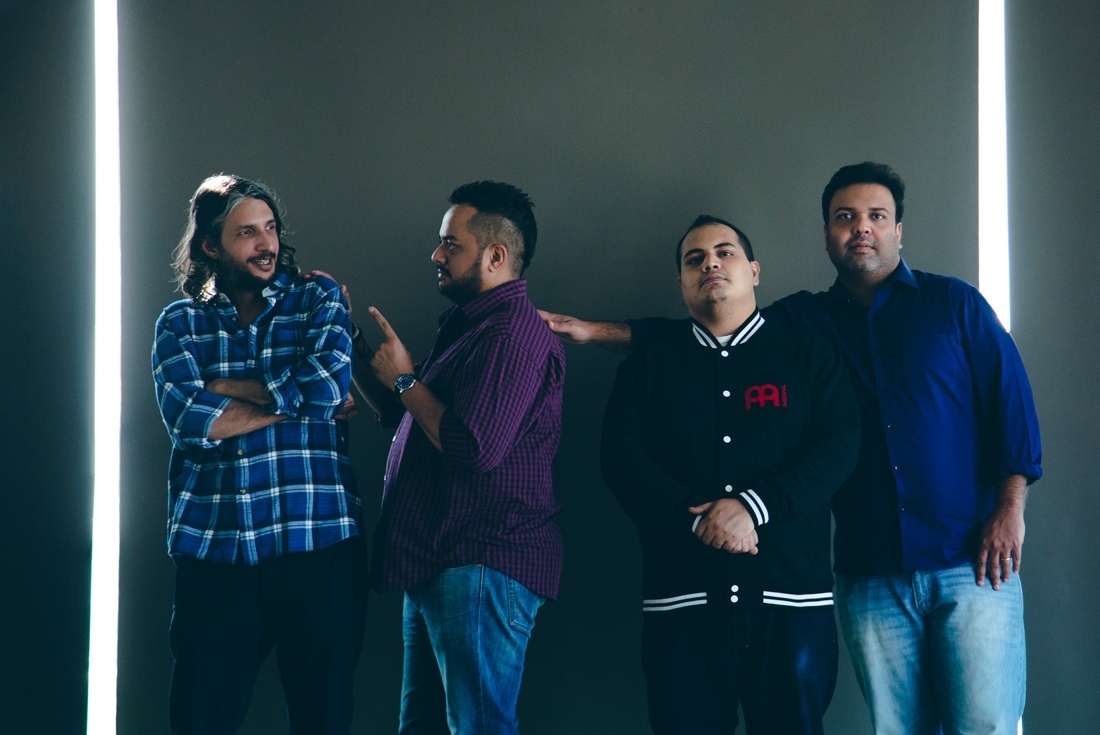 [L to R] Adi Mistry, Beven Fonseca, Jai Row Kavi and Warren Mendonsa
The Last Analog Generation
The first time I ever walked into a Blackstratblues gig, I found myself pinned between a throng of keyed up college kids and a group of swaying granddads. After a few riffs, it wasn't hard for even a newbie to fathom that Warren Mendonsa's music can't be defined and contained, and is probably the reason why you might, for once, find 20 and 70-year-olds under the same roof, and lost to the same tunes. The heady refrains coupled with Adi Mistry's fingers hypnotically melting on the fret scored that night in my memory, when I so easily discovered and fell in love with a sound so eclectic. A year since, I find myself connecting with Warren Mendonsa, to talk about their latest album, The Last Analog Generation.

Inspired by the birth of Warren's daughter, the 8-piece album has already been hailed as the best release by Blackstratblues, by fans and critics alike. It comes two years after their last album titled The Universe Has A Strange Sense of Humour, and leaves you asking for more. In conversation with frontman Warren about music, life, emotions and everything in between.

Deconstruct your sound in a one line.
Good Honest Music.

Where did your interest in music stem from and how and when did you decide the kind of music you wanted to create?
I was lucky to be born into a musical family, it was all around so I guess I just fell into it as a kid. I didn't decide on the music, I just focused on the stuff that grabbed me at a gut level.

Take us through The Last Analog Generation. What inspired it?
The album consists of 8 tracks that are predominantly instrumental, except for one that Tejas sings on. The basic tracks were recorded in a couple of days at Cotton Press Studios in Mumbai, and the rest of the overdubs were done at my little home studio. The lineup consists of Jai Row Kavi on Drums, Adi Mistry on Bass and Beven Fonseca on Keyboards.

The inspiration for the album title came when my wife & I found out we were going to be parents to our baby girl Nia. It struck me that she would have a very different childhood to what we experienced growing up in India in the '80s. That was the advent of digital technology and we got to experience the phasing out of analog and the growth of digital in our lives, from music, television and communication. So effectively the last analog generation was the first digital one.


The Last Analog Generation
Music and emotion are intrinsically intertwined. As a musician and composer, how does your life and mind inform the music you create? How deep do you dig?
If you're honest musically, you can't help being affected by the life around you. I don't really have levels of digging deep, but when you're writing or recording you will always be influenced by how you are feeling at the time.

From The New Album to today, how has your sound evolved?
The evolution of our sound is probably best discerned by the listener, to me it has gone from a solo project to a more collaborative process with Adi, Beven & Jai.

An existing song you wish you could have recorded instead?
Lenny by Stevie Ray Vaughan.

One thing you always do before going up on stage?
Drink water.

What are you high on these days?
Being a dad :)

Three things people would be surprised to know about Warren Mendonsa?
I don't really care for alcohol; I've never watched Star Wars; I have a great appreciation for Missal Pav.

And lastly, where do you wish to take your sound?
Wherever it chooses to go organically.

Catch Blackstratblues live on 1st September, at antiSOCIAL, Hauz Khas, Delhi.


Text Ritupriya Basu