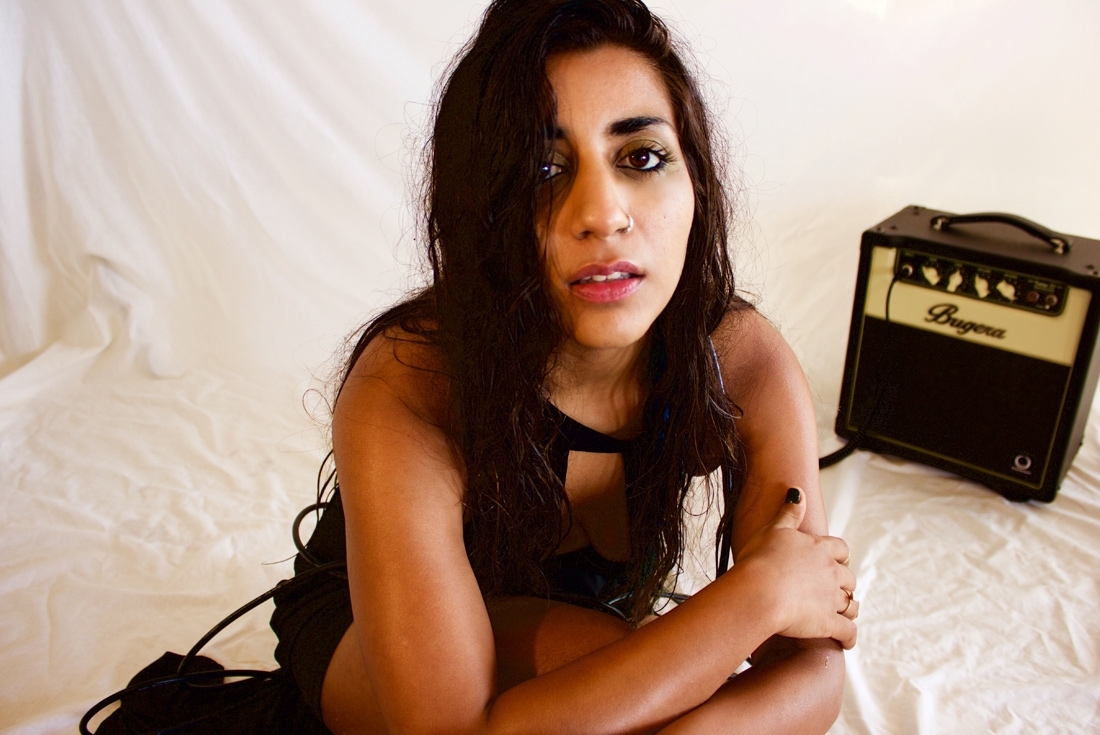 PROFILE OF THE WEEK
Zoya Mohan
She began her journey in her birth country, India, and explored countless countries in between before finally moving back to her childhood home in Southern California. And in doing so, Zoya Mohan developed a soundscape that stretched across borders. Her music was experimental and unorthodox, organic and ambient alike. With three albums to her name, countless tours worldwide, the folk singer we used to know is morphing into a modern woman, embracing technology with her new electronic outfit. A more aggressive, blunt and dynamic, foot stomping side to her and her live show. Below is all you need to know.

Tell me about the new you.
The new me, as an artist, is slowly blooming in transition from singer-songwriter to performing artist. I've consciously left the folk fusion girl you used to know behind and have opened the door for more production, electronic and synthetic sounds in my music. This choice comes with a lot of other changes in my brand, in my live show, and, most importantly, in my music. It is a good change. It's something I am ready for and is challenging me to see what I am truly capable of as a writer, producer, and performer. With all the experience after the last year and a half in India touring all the major festivals and after my recent US tour, I am ready for this next step. To showcase my art in a different, more grand way.
When we interacted a year ago you told me most of your songs are really personal, stemming from experiences and emotions during certain crossroads of your life…so now does the new voice stem from something similar?
My songs definitely stem from the same deep personal axis of questioning, realization, spectrums of emotion, human interaction — life, I guess, to put it simply. My writing comes from a very personal space. As my taste and technology evolves I think now there are so many more interesting ways to express these thoughts, lyrics and melodic emotions. Whether on stage or on the record. Exploring this is something I am really invested in right now.

How would you describe your sensibility now?
The job of an artist is to be honest. I have felt pressure from myself and others to stick to what people expect of me or want to hear from me next. But music is my platform to say things I most times feel afraid to say out loud. So, for me, the original intention and sensibility to express through art won't and could never change. My medium will remain a song. In this case the packaging and the direction of how I want my art to be perceived is changing. That is just evolution though. And evolving is something any of us can't help and, rather, should try to embrace.
"We are evolving. We are manipulated into thinking change is something basic. It isn't. It is the most intricate thing I have ever seen."
What are you hoping to resonate with the new you?
I think once the music is out there it's not mine anymore. It's yours. For those who follow me as an artist, I hope the maturity and the change in production resonates with everyone as much as it has for me. Our new live show and on stage next season is the time when I plan to really showcase the new me. It will be my first time on stage without a live band. There still will be many live components to the set but, now, also electronic. This change allows me to move around on stage, put down the guitar, jump around, hit things, and just sing sometimes. I'm looking forward to that. To have the chance to perform my songs instead of just play them for people.

Your second album, The Girl Who Used To Live in My Room, was completely crowd-funded. What route have you taken this time?
The Girl Who was crowd funded, yes. Since then we released another EP called Natural Disaster. Now I am focusing more on releasing singles, more video content, and preparing my new live show.
What can we look forward to from the teaser releasing next week?
You will get the first look at the new sound and new me! The Shaman & The Singer is the first song I have ever produced on my own and it really marks the beginning to this transition from folk to electro-pop. The video was directed and edited by London/Mumbai based, Sanya Sagar (PynkMoss Productions). She studied overseas at London Film Academy and truly has an eye for design. Our styles just clicked so I am really excited to have worked with her on this one and am looking forward to working with her for future music videos.

Any new collaboration on the charts.
Yes! I just released a collaboration called Heart Rates with 16 year old producer, Chrms via Chill Planet Records. The track is gorgeous and incredibly mature for such a young, upcoming talent in India. The song has passed 100K plays and even got the attention of the EDM duo, The Chainsmokers. So we are all really excited about that.