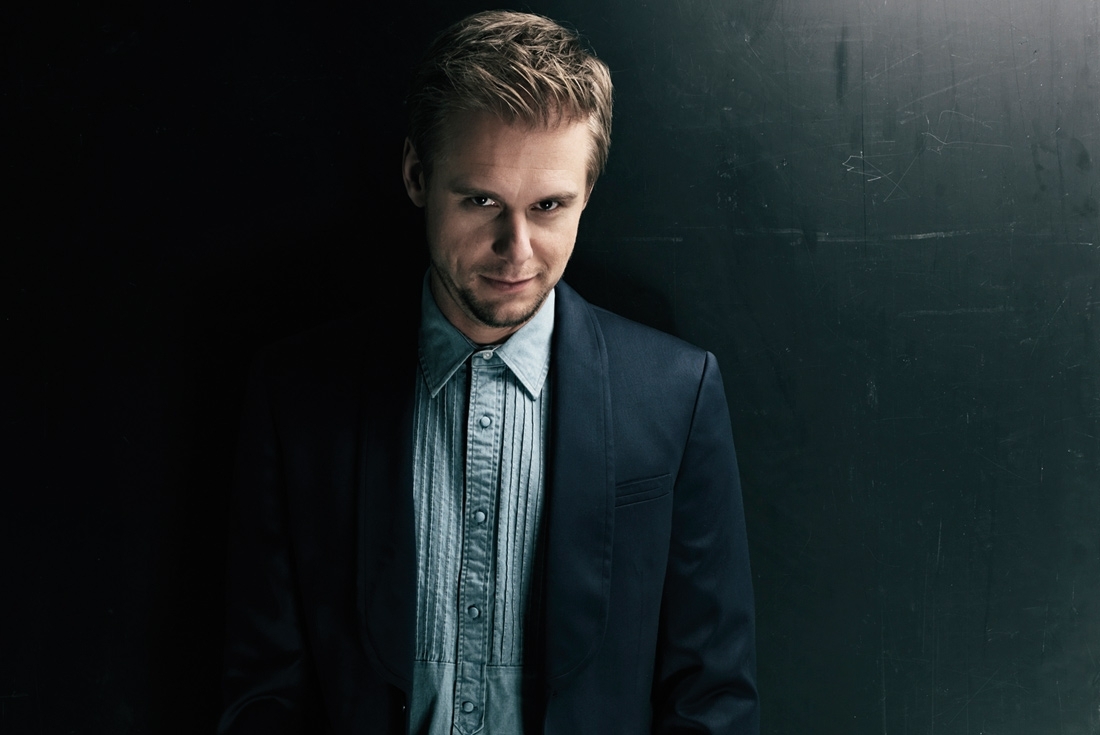 Photography by Carli Hermes
#ThrowbackThursday: Armin van Buuren
In a synchronized move, the crowd in Mumbai stretched their arms out like marionettes. The lasers cut across the sky in tandem with the thumping beats. From a lit up deck of gadgetry on stage, Armin van Buuren controlled his audience's every move. Earlier this year, world number one DJ and producer, Armin van Buuren brought his vastly popular, A State of Trance, celebratory show to Mumbai. A surprising, although not entirely unexpected, entry on the Dutch maestro's swamped schedule, nine thousand fans thronged the Mahalaxmi Racecourse on a typically hot day in March. The beaming fans shared more than just festival gear and coordinated dance moves.

Underneath the neon hued delirium, Electronic Dance Music (EDM) is about sharing experiences. From underground, grungy, largely illegal raves to full-fledged festival productions that are backing the tourism industries of the countries they crop up in, EDM has worked its way up through the cracks. In the process, it has overthrown popular genres and displaced the belief that it belonged on the runways of out-of use airports in the US or on the isolated beaches of India. But, for every fan cheering on the rise of the genre, there is an aggressive hater predicting its demise. For every ear that has fallen for the seductive play of hooks and drops, there is an ear aching from the monotony of beats and bass.

Irrespective of the ground you camp your opinions on, EDM is more than just a passing phase. While there might be DJs around the block aspiring for greatness, there are a few producers who created the benchmark that is yet to be met. With an incredibly successful career that is closing in on its second decade, Armin van Buuren is one of those few with a hard-earned legacy.
A self-taught DJ, who started experimenting with equipment at the age of 16, Armin's biggest inspiration came from his father who listened to electronic music back in the day. 'There wasn't a predetermined plan. "Hey I'm going to be five times number 1 DJ in the world" — it wasn't like that. I do what I love and everyday I'm very focused and serious about what I do; I put a lot of effort into it,' he says. And effort, more often than not, leads to rewards. From one of his earlier tracks, Blue Fear in 1996 that was played by Sasha and John Digweed, two forces to be reckoned with at the time, to Communication, the one that made it to the British top 20 in 2000, the beginnings were a subtle sign of the career to come.

Apart from the hundred-plus singles and remixes, he released his fifth studio album, Intense. He launched Armada in 2003, in partnership with Maykel Piron and David Lewis, and today it towers as one of the most successful record labels in the trance industry. He presents A State of Trance, a weekly radio show that has lasted twelve booming years, despite an itinerary that dots the map with his presence every year. While he plays to millions of fans across the world, back home, he was awarded the Order of Orange-Nassau, for his contribution to music, and was recently invited to play for King Willem-Alexander and Queen Máxima of The Netherlands.

A few months ago, when he celebrated the 600th episode of A State of Trance with his fans in Mumbai, the energy was inescapable. The show began in 2001 with a simple concept — a two-hour radio show for the latest in trance and progressive. His weekly mix promised to bring its listeners up to speed, and it delivered every time. Reaching out to 20 million listeners across 62 countries, the show went on to win Best Mix Radio Show at the Winter Music Conference in Miami for the past five years. 'It's great to see that some of the first listeners are still very loyal to me and are still following the show. I'm very proud to say that the original formula of the show is still very much the same,' says Armin.
While the show grew, in content and listeners, it went on to include features like Future Favorite, the Classic and the Year Mix Special before turning into a tangible entity with live events for landmark episodes, like the 600. The event travelled to five continents and invaded unchartered trance territories with curated line-ups that included Ferry Corsten, Rank 1, W&W, Markus Schulz, Cosmic Gate and more. From Malaysia to Madison Square Garden in New York, the events sold out within minutes.

With packed arenas and acceptance pouring in from various parts of the world, the dance music scene has certainly gained popularity in the last decade. '[It] is opening a lot of doors for us…We're all trying to investigate new sounds and move from one to the next. This is essential. If you listen to ASOT 2013, my new mix compilation released [a few] months ago, I'm really pleased with it. There are so many good tracks out there at the moment, and I dare to say, this is one of the best times for trance music in general.'

Although the rise is recent and unprecedented, EDM is hardly a new wave. It has been around, mostly underground, for many decades. But today, radio stations across the US and in India have embraced certain styles within the genre and have sparked its explosion. 'I don't think we should over exaggerate it…Some EDM styles have a more acceptable approach for radio, some EDM records are more suitable for day-time commercial radio and the stations have decided to pick that up...I think a part of this world has crossed over and it's being accepted, but it's not that all dance music is commercial now,' he says. The equation between the part that has gone commercial and the one that continues to simmer underground is one that can be beneficial to both. 'I don't think success should be the only focus for music…Trance isn't as popular as House music for example, and that's a good thing. It's great that there's so much attention for EDM right now because it's opening up a lot of doors for a lot of underground, unknown artists. But when I sit in a studio I don't think, "how can I create a top 40 hit?" or, "how can I make something more commercial and live off the success of the explosion of EDM in America through dance stations?" This is not something that's on my mind when I'm making music. You just follow your heart and do what you do,' he says.

"It's not predetermined. The art of DJing is the art of the moment, the art of being at that specific time and trying to interact with the crowd and making a choice for your next track."
However, while popularity is initiating a collective, albeit messy, rise of the scene, it never travels light. It carries the lucrative bag of commercial viability that often results in quantity over quality, and it also incurs the wrath of the purists who oppose this progress. Aspiring DJs are cooped up in their rooms with a laptop and Logic Pro [a nifty production software], hoping to fly into Ibiza with their entourage on a private plane as soon as their track becomes the next festival anthem. But, even though the technical support of software has eased the process of production, it is often frowned upon for its synthetic sound and amateur accessibility. 'I think at the end of the day, what matters is whether you rock the crowd. I mean, people have been saying, now people don't DJ with vinyl, it's not real anymore. Or if you play from a laptop it's not real anymore. I think it's all irrelevant if you look at the crowd going crazy for someone playing music from a laptop,' says Armin. 'I can guarantee that when you come to an Armin van Buuren show, you will see the effort going in. There are a lot of people travelling with me, the selection of tracks that I play depends on the location, all the mixing I do is live.'

Mixing live for thousands of fans is an art that is rooted in technical skill and creative intuition. While essentially, the task requires a timely interaction between buttons and knobs, it is the knack of knowing what the crowd wants that sets one DJ apart from the other. Be it mixing a track to suit the build-up of your set or finding the serendipitous moment for two tracks to merge effortlessly — precision is everything. 'I don't think you should compare a DJ to an artist — it's not the same thing. One thing is soccer and the other thing is tennis, you know, they're both sport but they're completely different. It's important to understand that a DJ will never be an artist who will play multiple instruments on stage. Having said that, there are some DJs who go the full length and do play keyboards live on stage. But in essence, in my opinion, being a DJ, is basically playing other people's records to a crowd that's out there. So, you feel a vibe off the crowd, the atmosphere, the reaction of the crowd and then you choose your next record. It's not predetermined,' says Armin. 'That's the craft. The art of DJing is the art of the moment, the art of being at that specific time and trying to interact with the crowd and making a choice for your next track.'
When he performs and showcases his craft across cultures and continents, the landscape continues to change but the Armin-experience is bankable for its promoters and consistent for its fans. 'I watch the social media to see if people expect certain tracks, but people want to hear my sound, of course, I try to bring something special for each show, maybe a special intro or a moment in the show when I dedicate something to the country. But I don't divert too much because [people] come to hear me play, so I don't think I'm in a position where I should deviate too much from what people expect from me,' he says. 'When I'm on stage, I'm not there to please myself. I'm there for the audience. Having said that, I want to surprise people, I want to try out some new tracks, I'm also having a good time on stage. There's a balance between those two worlds. So, you try to create something new and different for the crowd, on the other hand, you don't want to be a jukebox and play all your hits in a row.'

Apart from at his own shows, Armin's presence is warranted at every major festival and club across the world. While his fans, or fanatics, refer to him as a 'God of Trance', at home with his wife on his day off, he is simply a father who drives his daughter to her day care or takes her swimming. When he's not touring, Wednesdays and Thursdays are reserved for the radio show when, along with his team in Amsterdam, he sorts through the pile of trance tracks for some hidden jewels to present to his fans through the mix. For the rest of his time, he prefers to work with his long-time studio partner, Benno De Goeij, and also finds time to indulge the athlete in him with running and sports at least three times a week.

Between parenting and his profession, his empire needs constant care and critical attention. However, his primary preoccupation is with the creative aspect. The business decisions, along with his comprehensive booking schedule and persistent press requests, are handled by a team of professionals. 'The good thing is I have more time to focus on what it's really about — my music — this is what I really want to bring to people,' he says. And with that focus, he is able to balance live performances and studio time. His latest album, Intense, came after a gap that was ideal for adequate anticipation. Through its compositions and collaborations, it tells a story that is left to the listeners for interpretation. 'My album is an artistic expression that I hope other people will like,' he says. 'I'm not the type of person who wants to change the world with my music. I have put my message in the music, and I hope people will appreciate those messages and will give it their own meaning.'
"Music is the opposite of a formula. You try to do something new every time, every track has to be unique in order to stand out. I never work according to the same formula, if you try to recreate a hit in the same way with the same sound, it's not going to work, I can guarantee that."
Armin's sound and its progression has been a topic of debate between various camps, even among his followers who expect nothing other than trance from him. 'Music is never the same, it will always move on. This is a fact. My new album Intense, sounds different than my previous album, and Mirage sounded different than Imagine. But I'm very proud to say I'm still supporting the harder styles and I'm very open to any new kind of sound that is out there'. Unfazed by the number of DJs and formulaic track releases doing the rounds, Armin stays true to his own expertise and believes in painting a different picture each time. 'Music is the opposite of a formula. You try to do something new every time, every track has to be unique in order to stand out,' says Armin. 'I never work according to the same formula, if you try to recreate a hit in the same way with the same sound, it's not going to work, I can guarantee that.'

His career is marked by memorable hits that have proven his production prowess. And he has more years of experience than the one-hit-wonder generation of producers can collectively hope to attain. As he continues to sustain his considerable grasp on the industry, Armin remains focused on the future. 'I'm really inspired by the new guys like Orjan Nilsen and Andrew Rayel. What we should keep doing is focusing on new music and good sounds. That decides what people will like. I like for music to progress and for things to move forward. So I like to keep a close eye on new talent and see where it's going from here,' he says. 'I don't want to focus too much on classics, I mean, they are great but they have their own place in history. Sometimes it's great to play a few classics but I would like music to move on and for styles to merge. Having said that, my heart is with trance music, it's always been that way. I will keep following the genre and keep making music that I like and can be proud of,' he says.

Our conversation with Armin van Buuren was first published in our Music Issue of 2013. This article is a part of Throwback Thursday series where we take you back in time with our substantial article archive.


Text Mona Lalwani