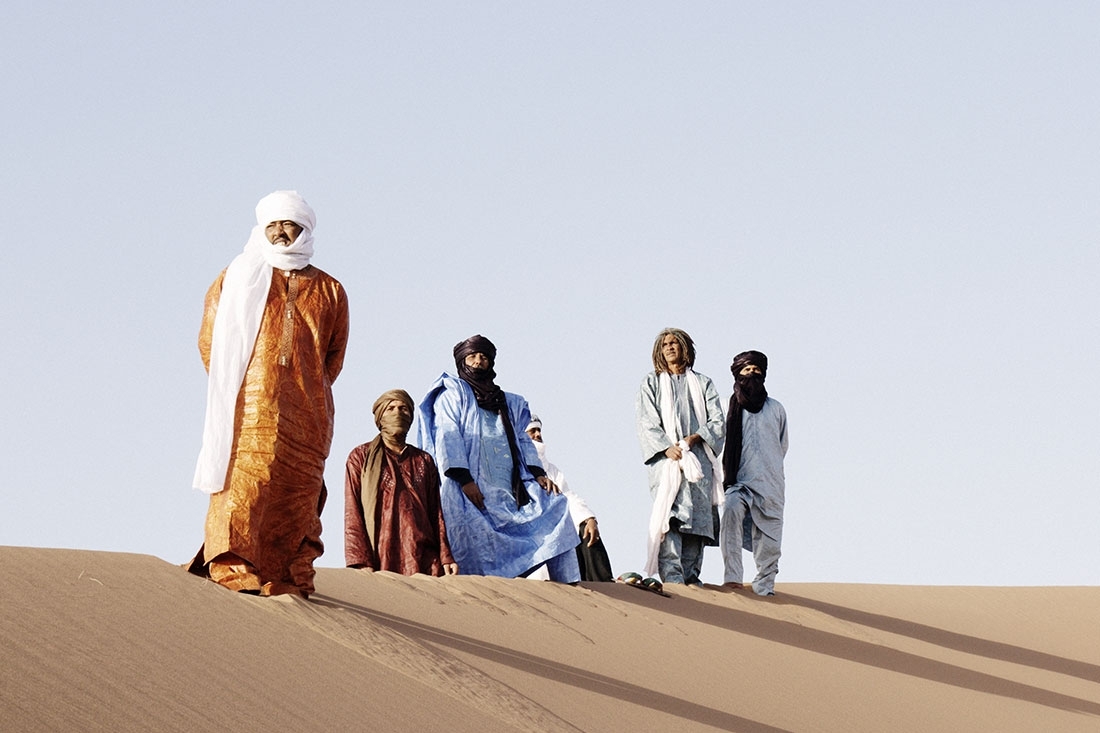 Interview of the Week
Photography by Marie Planeille
Tinariwen, a six-member rock band hailing from the Saharan region of Mali in West Africa, was the coming together of Ibrahim Ag Alhabib—founding member of the band who first discovered his love for music in a makeshift guitar—and other musicians from the Tuareg rebel community. They met at a Libyan training camp and that is when their sound, as we know it today, came into existence. When the Tuareg people revolted, the band members juggled between their guitars and their guns. When they weren't revolting, they were creating rebel music to voice the issues of the Tuareg people on blank cassette tapes that would be traded across the conflict-ridden desert area. Singing about the revolution and the significance it held for those involved, Tinariwen became the voice of the Tuareg people.

After years of living illegally in Libya, the collective decided to move to Mali and completely devote themselves to music. Their performance at an annual concert in Essakane, Mali called Le Festival au Désert was a game changer and helped Tinariwen gain international recognition. The band was no longer creating rebel music only. Its music had survived an entire revolution and even today, carries with it the indelible memory of the same.

Primarily percussive in nature, Tinariwen's music is a mix of folk and blues that is bound to make you bob your head to a carefully-paced rhythm. Despite widening its horizons, their sound has stayed true to their desert origins and is often reflective of their time spent rebelling and in exile.
From recording free music on blank cassette tapes to winning a Grammy and performing internationally—what has the journey been like?
Indeed it has been quite a journey, starting in the Sahara around the borders of Mali and Algeria in the late seventies. Ibrahim Ag Alhabib, Intiyeden Ag Ablil, Mohammed Ag Itlale and Kedhou Ag Ossad started playing music together. They met Hassan Ag Touhami and I when they had to exile to Lybia... We continued the band when we moved back to Northern Mali in the early nineties, playing at weddings and shepherds' gatherings. That's where we met Eyadou Ag Leche and Elaga Ag Hamid, the current bass and rhythmic guitar players in Tinariwen. We starting touring extensively all over the world only in the early 2000s after recording our first album thanks to the French band Lo'jo.

What does 'Tinariwen' mean? How did the name come to be?
When we started the band, people used to call us "Kel Tinariwen" which means "the guys from the desert"! We only kept Tinariwen, "deserts".

You started off by creating songs that portrayed the issues faced by the Tuareg people. Has your music changed over time? Does it still possess the element of social justice in it?
It is in our DNA and unfortunately, there is still a lot to say. It's a great honour to be able to speak out for our people, we feel like it is our duty so we will always do so.
Photography by Marie Planeille
One international gig that stands out in your experience.
We have so many great memories… Playing at the kick-off concert for the Fifa Word Cup 2010 in Johannesburg was an amazing experience!

Being a part of the rebel groups—how did that shape the kind of music you're creating?
We don't consider ourselves as being part of a rebel group. We want to stay out of politics. All we do is talk about some problematics our people are facing, whether it's climate change, education, health issues…

Can you name some of your earliest songs and some of your latest ones. Has there been a shift in the themes that you're exploring through your music?
We are currently four songwriters in Tinariwen: Ibrahim, Hassan, Eyadou and I. If Ibrahim wrote many of the classics old tunes such as Cler Achel or Amassakoul n'ténéré, new songwriters have been welcomed in the band throughout the years. Eyadou is part of the new generation and his songwriting is more influenced by modern occidental rock music. For example he wrote the song Nannuflay, which is on our last album Elwan.
As for my songwriting, I tend to allow myself more and more "digressions" nowadays, for example, the song "Talyat" is influenced by Algerian Arab music.
"We like to play our own kind of blues which we call Asouf."
How would you define your sound? What do you wish to convey through it?
Some of our songs are pretty hypnotic, some others are very emotional, they can be joyful and dancy too! We like to play our own kind of blues which we call Asouf. It's a style that evokes homesickness, loneliness and sorrow.

Take me through your song writing process. How does it shape up?
Sometimes I start with a simple guitar lick that I play over and over again until ideas pop up. Progressively I add elements, sing melodies, and write lyrics.

Are there any Indian artists/bands that you like/are aware of? Is there anyone that you would like to collaborate with?
We know Kiran Ahluwalia who asked us to cover a famous song by Nustrat Fat Alkhan. We met her through Justin Adams, Robert Plant's guitarist who produced two Tinariwen albums.

Apart from your ongoing world tour—what's new?
We have recorded some new stuff in Paris recently. Stay tuned!

As a part of their ongoing World Tour, the band recently performed at The Royal Opera House, Mumbai on 8th November, 2017 and at The Humming Tree, Bangalore on 9th November, 2017.


Text Pankhuri Shukla