Chidambarum Treehouse Extension
BandukSmith Studio
Sachin Bandukwala and Melissa Smith
Sachin Bandukwala and Melissa Smith's BandukSmith Studio, is a multidisciplinary architecture and urban design firm that works at any scale, taking on projects from furniture and object design, to commercial architecture. In each project they look at how to transform the existing through introduction of the new, in order to rediscover possibilities. They combine a materially sensitive approach to design with respect for the context in which each project is placed.
In conversation with Melissa and Sachin about what drew them towards architecture, the importance of sustainability in their blueprint, the kind of changes they're inculcating in their practice during the pandemic at hand and more.
What drew you towards architecture?
Sachin Bandukwala: There is a future unknown and one can only imagine it — it just seems endlessly fascinating to keep coming up with innovative ideas that solve the problems of our built environment beautifully, and improve the lives of all its inhabitants.
Melissa Smith: Its interdisciplinary nature. I don't like to define things — I am more interested in the potential connections between things, than carefully defining their differences. Architecture seemed like a natural place for this, with its roots in the Renaissance, and a type of work that must always sit at the intersection of things — of client and contractor, of public and private, of assembled and void. I also liked the messiness that architecture deals with — perceptions of space, economics of building, social connections and the urban condition — all complex, interdependent layers on space that are hard (or impossible?) to parse, yet the precision it requires to resolve a design and a brief! And at the end of the day, architects are optimists. We make, intervene, shift, alter — we are not just critics. I was drawn to the profession for some of the exciting potential I saw, but I also thought it would be good for me.
How would you sum up your journey in the practice since you started out?
SB: The more challenges you want to take, the more challenging it gets. Starting with designing a small toilet for an office has led to explorations of various scales of architecture and interior design projects, in search for appropriateness and open endedness of uses. This open endedness and appropriateness has now taken us towards public institutions and public spaces in small and big cities — still designing toilets, now they are public toilets…
MS: We are scrappy! We have just been pushing and pushing, obsessively at times. Every project is a new beginning and sometimes we feel that we are running in circles. In the last few years we have been working towards public projects, which is a whole new ball game.
BSF Library Plinth And Roof
What is your approach to design — How would you deconstruct your practice?
SB: Reinventing the wheel every single time, make new system to check on its appropriateness one more time. When a project comes, we figure out the obvious — context, client, cost, project brief and available construction technology and standard around. We figure out the problems and see the opportunities, set the minimum benchmark with an obvious solution, then start the process of exploration to see beyond this obvious — by hanging various options that may or may not influence the final proposal, and has layers of hierarchical processes to find the appropriateness in imagining the building and building the imagined.
MS: As partners, we are poles apart, which makes for a healthy balance. Sachin can imagine a diagram in his sleep, and sketch it out conceptually in a minute. He is always trying to get clarity and pin down the design direction. I on the other hand like to research, question, and postpone the decision as far as possible. I keep hunting for potential layers of information, to add and adjust the design to. In practice, the tension between the two produces the conversation and the iterations, around which the design evolves.
How do you balance functionality with aesthetic when it comes to furniture and interiors?
SB: We are still figuring this out, however we strongly believe that furniture is miniature architecture and thinking of the interiors makes us realise what are we making the room for! Therefore it is extremely useful to work at different scales, but not forget the users' patterns, anthropometrics and curves (since straight line is too much in vogue!)
MS: Our aesthetic always comes out of functionality. Again it is like structure — if the functionality is not there, there is no point in discussing the aesthetic. But we also don't apply 'aesthetic' to anything. The look, the haptic response, all emerges from the qualities and needs of the space.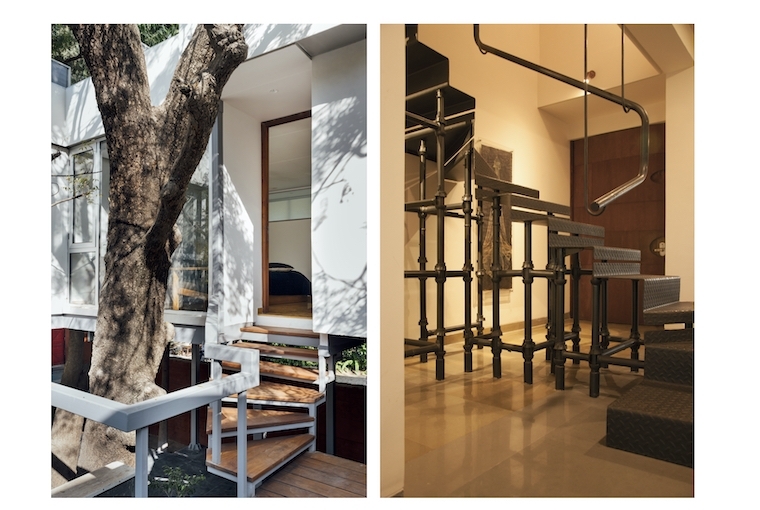 L: Chidambarum Treehouse Entry; R:Crafted Penthouse Scaffold Stairs
Tell us about some of your biggest breakthroughs?
SB: The speed at which we can design, resolve and un-clutter things. We can analyse the layers and nuances of the problem on hand very quickly and move very clearly to state the intentions that make our aims and objectives very clear. At all stages of design, when a building(s) is coming together, we try to be very much aware of how it is going to disintegrate, how those materials will age.
MS: BSF Library - we learned that we could speed: 16 weeks, from design to opening. Fast fabrication, organised, quick construction, robust details. Row Office - we opened up the heavy, closed row house typology by breaking the stairs. Magnolia Office - we (I) learned how to draw on site so that agencies understand, and not in Rhino with many measurements that need sophisticated tools to map. Garden Bistro Green Screen - we learned to rethink the obvious, with non-foundation foundations made from two tonne concrete planters placed on a metal frame.
What role does sustainability play in your blueprint?
SB: If there is any energy that should be consumed for transformation, let that be ours, us humans'. However when we build we cause a lot of destruction. Traditionally this country has had a tremendous culture of recycling everything and not letting anything go to waste, even reinforcement bars from a demolished building get straightened and used again. At this point, it is the hard labour of the extremely poor and needy, who are looked down upon by everyone who doesn't need those reinforcement bars, but we hope that someday soon, we will come to realise that we are all in this together, and we work to use our material resources appropriately. With this hopefulness, when we design our projects, we try to keep the materials as recyclable as possible, when their current purpose dies.
MS: Sustainability is integral in the way structure is integral. We do not think of some buildings as sustainable buildings and others not — buildings need structure because they need to stand. In the same way, buildings need to mitigate, respond to and work with the climate and the environmental conditions they are in, and they need to do so in the most appropriate way. Our approaches to 'appropriate environmental response' tend towards those that are passive, which embrace a permeable relationship with the outdoors and use limited mechanical solutions.
What changes do you think you will inculcate in your practice post the pandemic, or what changes have you already started bringing about?
SB: We have always tried to work at the cusp of change and convention — this has not always been easy but we hope that the pandemic makes everyone a bit more sensitive to good environs that go beyond creating facilities and conveniences. And I hope that this change will bring us much closer to other change makers!
MS: We have completely rethought our data sharing structure and mode of communicating in the office. Right now we are still offering options to people to come to the office or stay home, which means we are now set up in the cloud and using chat streams to organise our conversations, whether we are in the office or not. We are also targeting outputs more carefully, so that people have the flexibility to work when and how they need to. We think that this will be helpful even post pandemic, because it allows us to work more flexibly across sites, that are spread across the subcontinent.
Lastly what is good design and what role should design play in our world?
SB: Something that feels very old and looks very new — like a seed that is about to grow, just a coded beginning that will figure out its growth pattern almost as if it knew what was coming. Good design provides us the right kind of rhythm in the world where there is entropy. We are at a point where we can share knowledge, but should stop moving materials so much. Design nearby, and far away someone else will design their nearby.
MS: Good design is thoughtful attention to detail, coordinated strategically across scales. Good designers can be powerful because they can identify lateral connections and patterns across divergent sets of information. Good designers can innovate, and this is what we need — innovators who develop nuanced understandings of the spatial environment we inhabit, and apply clever improvements to the issues that we see, to incrementally transform our world.