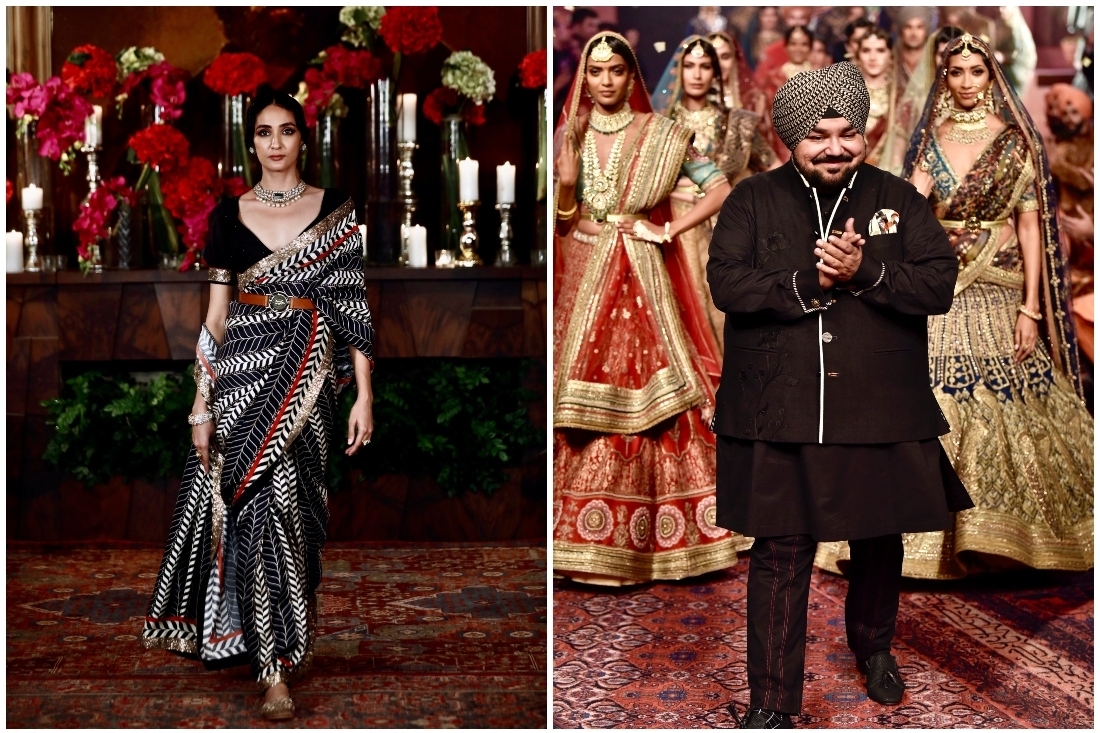 A master of his craft, designer JJ Valaya has built a fashion legacy over nearly three decades now. For someone who began his career when the fashion industry was fairly nonexistent, the Delhi based designer has carved out his own niche and his designs are coveted world over for their resplendent aesthetic. Carrying forward the spirit of intrigue and inspiration that he draws from royalty, the designer recently presented a new collection at the first ever digital couture week for FDCI.
Titled Bursa, the collection is named after the city which holds a special place in Ottoman history as their founding capital, and also as the birthplace of Ottoman architecture. The collection includes the famed Ottoman silks, which were among the most characteristic and artistic products of the empire, besides the nomadic kilims of the period. Exploring this history further, the designer also incorporated Ottoman miniatures, known as 'Taswir', which are painted to illustrate manuscripts or used in dedicated albums, and the art of 'Tezhip', which means to ornament with gold. We're in conversation with the man himself about creating during a pandemic, the challenges of operating within the digital format and his take on the changing face of fashion.
How do you think your craft has evolved after all these years in the industry?
Creativity that is enjoyed comes from the soul, and as good grapes mature into fine wine, this kind of creative energy gracefully evolves with its rhythm. Ours is a visual world, this evolution can be seen and felt as time goes by. Let's just say, the creator and the created become one over the years.
In the current scenario words like 'sustainability' and 'ethical' fashion are more important than ever, what is your take on these?
This is a reality globally, and not just in India, that the pace of fashion will change. It will become slower, and more sustainable. This is something that was much needed anyway because fashion had become too fast. Everybody was running a rat race and launching too many collections too rapidly, which wasn't working out. If I were to look at the positives, this would mean you will have a better quality of clothing which can last longer, which you can invest in. Values of tradition and values of craft are going to play a very important role. The cheap stuff is going to fade away and only the best will survive, which is a great thing.

In our case, we have been practising sustainability since the time we began. We have clients who purchased our garments 25-26 years ago, coming back to us to get those garments altered in their daughters' sizes. We have young girls now coming back with our garments that their mothers wore. Something that we created decades ago, is coming back to us, as the new generation wants to wear it now. This is the biggest test a brand can be proud of, the test of time and generations. There can't be a finer example of sustainability and top quality than this. We have always followed this belief and I'm glad the whole world is coming to terms with it.
Fashion as we know is reshaping itself right now, what is your take on the new normal for the fashion industry, as we're dealing with the pandemic?
I believe that the pandemic has made fashion digital, which is the new normal of today. Given the circumstances we are in, and given that going digital was the only solution to showcase the couture collection, which aligns to a wider audience, I think we may have unearthed an opportunity. This may become our way forward, where virtual and real-time stores, and shows will co-exist, but the virtual will become even stronger. Even though it's very important to stay connected to the past because so many beautiful riches and memories lie there, but at the same moment, to be blind to technology is also silly. I think when you find that perfect balance, life becomes fabulous and even more interesting to look forward to.
I think as long as we get to create beauty, how we show it and how it is embraced is something we need to be in sync with the times. I strongly believe that one has to keep focusing on all the positives rather than keep thinking about the negatives. It is a tough phase for everybody. We just have to go through it without apprehensions and keep developing, creating and trying new things. Further, it is a reality that the pandemic has stopped people from coming to real-time stores. In such a scenario, e-commerce will act as an added revenue for purchase and open up a much larger market for us globally.
Who/What inspires you to create at a time like this?
Life! There can't be anything more beautiful and important. Every single moment alive is to be cherished and made the most of! Don't sweat over the transient!
Tell us about some of the challenges you faced, especially for this collection, while working with a completely new format of showcasing?
The way I see it, sure there were many challenges, we were working with a smaller group of people, very confined space and no audience, and of course we missed the energy and high of a live show, but then there are pros as well. Things like the time to fix things, put them into place, edit, play around with music and effects, and put together a very capsule form of a couture presentation, which can sum up a lot of hard work into one tiny film. So, challenges aside, we may have discovered a new opportunity and I think the way forward is going to be a beautiful balance between real-time as well as digital.
Finally, what's coming up next for you?
I plan to launch my flagship store 'The World of Valaya', in Delhi, by early next year. It would be a very large space, and would include everything we do, from fashion, home interiors, photography to everything. We were supposed to launch a real-time store a month back, which was to be followed by the launch of the website this month. Now, because of the pandemic, the real-time launch has moved to 2021 and the website has been launched as planned. We are in the process of completing the first phase of getting the store into action.
Text
Unnati Saini