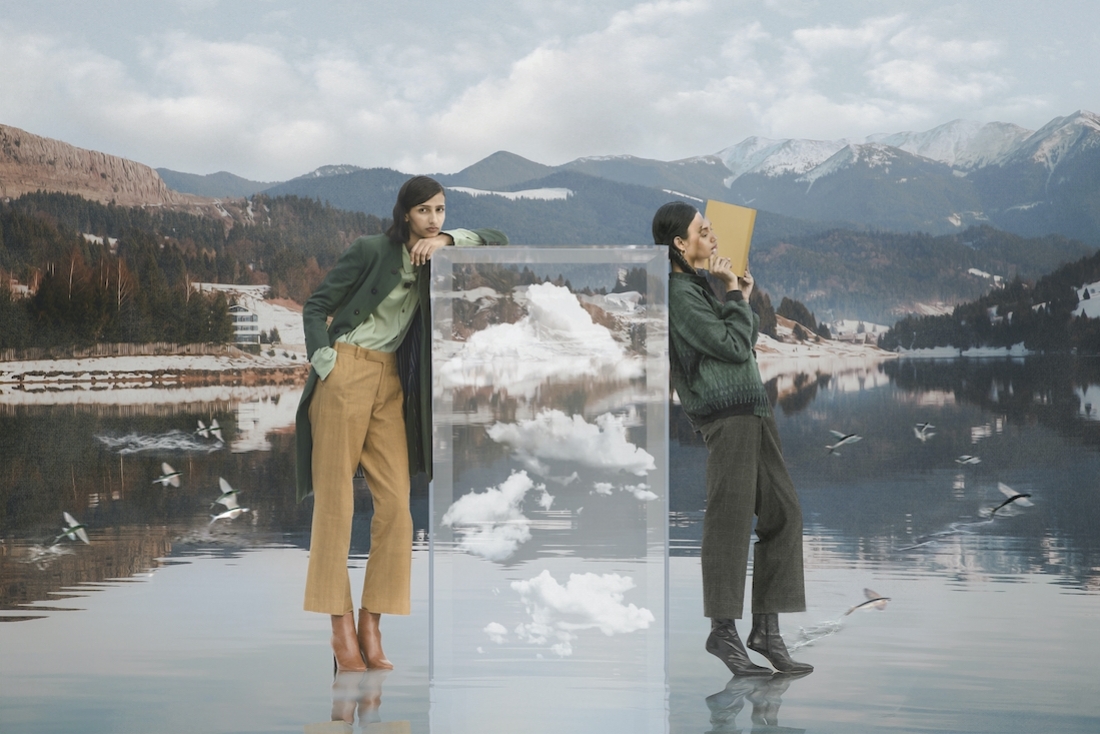 When creating fashion campaigns, Pranoy Sarkar likes to flit between diverse concepts. 'I don't think I have a distinct style,' says the photographer and art director, as he describes how he pursues his many projects. Using architectural spaces and the environmental milieu to his advantage, no one series of his is like the other. Having worked with brands such as Torani, Rajesh Pratap Singh, Raw Mango, Tarun Tahiliani, and SuketDhir, he uses powerful imagery paired with simple minimalism, to create ethereal photographs that are often left etched in the minds of the audience for long. We connected with the artist and discussed his arresting artistry.
The Artist
When I was young, we kept traveling around. I was in Madhya Pradesh and then in Calcutta for a long time. The longest I've stayed somewhere is in Delhi, for almost 15 years. Otherwise, since childhood, I haven't been at one place for more than three years. I came to Delhi to get my design degree at NIFT. I wasn't very well-versed with design or fashion before I joined college. So as a part of the curriculum, I had to pick up a camera and explore it. I ended up liking it so much that I specialised in it. I started freelancing when I was in college somewhere around 2009, and I passed out in 2010. So that's how I ventured towards shooting campaigns, for fashion, professionally.
The Journey
When I began, in 2006, I took up travel photography. It really interested me. I traveled extensively every weekend and on every single holiday. I took the local trains, buses, went everywhere, shot like a maniac. And I had a film camera so I had to decide on how many images I could take as well. I really liked and still like the images that I did take, but eventually, within a year, I got very frustrated. I was shooting something that already exists, I wasn't getting to create anything from scratch. I've always enjoyed the process of creating something from scratch. So that is when I started exploring fashion, the other side of photography.
One of the biggest influences was Rajesh Pratap. He mentored me towards the end of college. And slowly in the next three to four years, I took up art direction as well, and I started dividing my time between that and photography. In the first year that I took up art direction, I was just figuring it out because most of the brands were unaware of the role of an art director. I took it up because I felt that there was a huge gap in translation from the story that I wish to tell, to the shoot and how the outcome is shot and published somewhere. So I thought there was a person needed to bridge that gap. Brands didn't recognise this so I started offering this to my clients free of cost initially, and within a year it had materialised into something substantial, as brands also realised that it had enormous potential.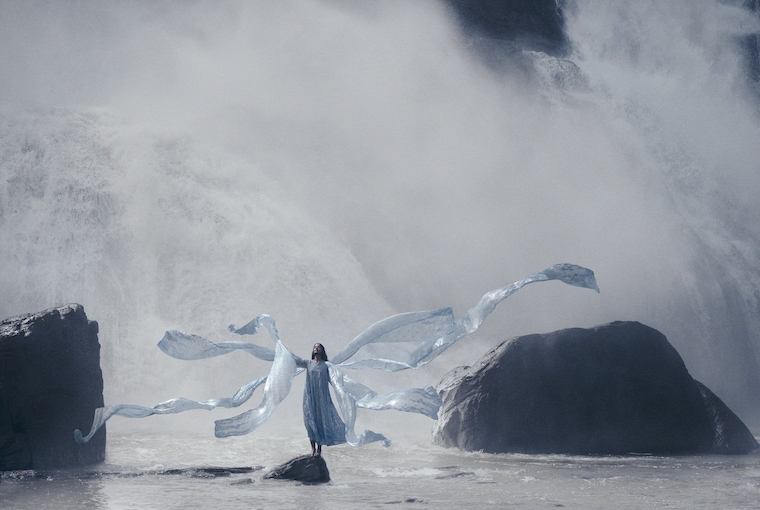 The Creative Process
The calculation of everything is very interesting to me. I would sketch out something and then I would actually start figuring out how to go about it. For me this process is very important, I don't like to jump processes. I like to first think about how I can put this story together, dream about it and put it together, and then I would sketch it. Only after this, do I start thinking about how I'm going to execute it. post which I begin production, looking for location, looking for models, and at times I do collages as well. So, I sketch out anything that is possible or impossible, and then see how to work it out. I've been a process-oriented person that way. And my first instinct when I see the outcome is not to get overwhelmed by it, my first instinct is to constantly find flaws. So days after I've produced something, I'm constantly looking at it, finding as many flaws as I can, and trying to perfect it and fix it to the best of my abilities.
Art Direction
I realised the distinction between photography and art direction fairly late. Initially I thought that it's a mandatory thing for every photographer, that they must create everything on their own. Later on, when the industry also evolved, I realised that there are different roles. Nowadays, these roles have become blurrier. In the early 1900s, till like the 1970s, taking a photograph wasn't an easy job. The biggest job of the photographer was to be extremely technically sound and to create a beautiful image. Over a period of time, with everything becoming digital, creating an image became an easier process than what it was. So obviously everyone's roles changed. Now, how do you create that distinction? If being technical isn't your selling point, then you do need to have more distinctive qualities in your image. And that's where personal style comes in.
That's how I think that a photographer's job has graduated from being a cameraman to almost directing and shooting the image. I don't think I can pinpoint where the line finishes and where the line starts, I can't ever say that an art director should stop here and a photographer's job begins here. When I'm merely art directing, I would always tell the photographer that this is how I foresee it but I always give them the space to build on the image.
Behind The Scenes
My first ever shoot was for Rajesh Pratap. I had to just produce one image, and this was in 2009. It was very small-scale. I went to some rundown abandoned garage, and I was just hanging things around to work my way around. It turned out to be a very interesting image, and he ended up using for the next two or three years. Since then, there have been so many projects that were creatively significant to me. Interestingly, most of the time what happens is, by the time I finish a project I'm quite over it, and am already looking forward to working on something that is completely different and new. I've had different experiences with different designers, and they've all been incredible.
I remember this one shoot I did for Torani in Kerala, which was an interesting process. When I'm working for a designer, I hear the story that they're picturing, their inspiration and what they have in mind. Karan had this story about the rivers. Once I heard that, I sketched out what I'll be shooting, on paper. And for Karan, that process, from the sketches to getting to the final images, was actually pain-staking because the approach that I wanted to take was difficult. He was blown by it and he agreed to go ahead with it, although it was a logistical nightmare. We had a very strict time frame and we shot for almost 56 hours at a stretch. Every image was shot in a different place so we had to travel after every image was shot.
Another project that I really enjoyed was this series of nine artworks for SuketDhir, and it was based on the Navrasas. I was very inspired by Rene Magritte, so we began from there. We decided to create some artwork, and we had no ground reference on anything that has been done so far on similar lines. So I started sketching and then I started thinking about how to execute them, because what I had sketched out was surreal. So there was a very thin line between it being extremely artistic and majestic, and being trashy. I had to shoot every part of it, I had to involve not only my digital team but also somebody who did CGI. I had to involve different studios to actually make what I wanted and then collate it together. I did not have a time frame in mind — eventually it took me six months to produce nine artworks for him.
The Pandemic and Beyond
Honestly, my ways of working haven't changed because of the pandemic. I was always this person who would take up the exact amount of work that I want to and can do, and will give it everything. I've never been into the mad rush of taking up everything that comes to me. So I've been quite relaxed through the lockdown, I've never stayed at home for that long. I read a lot, I was in my library day in and out.
In a more general sense, it's been a very short time to comment, but I've realised that brands have become more thoughtful. Everyone went through great amounts of losses, and when this happened, there has been a sense of actually going back to their roots, and being as authentic to their design philosophy as possible. So we were looking inwards, which is a great thing. Very surprisingly, there were new brands launching and a lot of interesting projects came up. Earlier it would've taken a lot of courage for people to do that. The downside of this is, there has been less money flowing into the industry. People aren't willing to spend exorbitant amounts immediately, which is also good since everyone is more mindful of things now.
Text
Janani Venkateswaran