By looking at the trajectory of films Alankrita Shrivastava has made, it becomes obvious that the filmmaker is more interested in exploring the interior world of women and not compartmentalising them. The women in her films are real and relatable. And that is what we love about them. They're fun, they have dreams and are not dying to only be good women of the world. Dolly and Kitty in her new film are also women of today — battling patriarchy every day but never getting bogged down. Streaming now on Netflix, Dolly Kitty Aur Woh Chamakte Sitare stars Konkona Sen Sharma and Bhumi Pednekar in pivotal roles. We got in touch with Alankrita to talk about Dolly, films, the audience and her creative process.
What do you think makes a good film or a show? What do you the think audience of today is looking for?
I think there's no one defining thing that makes a film or a series good. I feel like there are so many different audiences and they have so many different tastes, different people watch very different things. The beauty of streaming platforms today is that you actually have this kind of variety. I go to a streaming platform like Netflix or Amazon and I can just click on something that means something to me and I find interesting. This has also given films and series the space to explore different genres and different styles of filmmaking. Everything is important. I definitely think that a good idea, a good story, that's the basis of everything. You also need good performances to bring everything to life, and without direction, it's hard for the story to translate, vis-a-vis the performances and how the film is put together.
So I think everything is important, but there's always an x-factor, it's about how these various things come together — between the idea, the script, the world that is created, the performances and all the other elements, whether it's production design, cinematography, music, the costume design. The beauty of a series or a film is that it's not ever just one thing. It's always a combination of many things and eventually there is a feeling that a film or series evokes, and it's this feeling that the audience connects with. And I think that's what eventually matters more than anything else. It's a concoction of many things, but definitely the three main things are the script, the performances and the direction.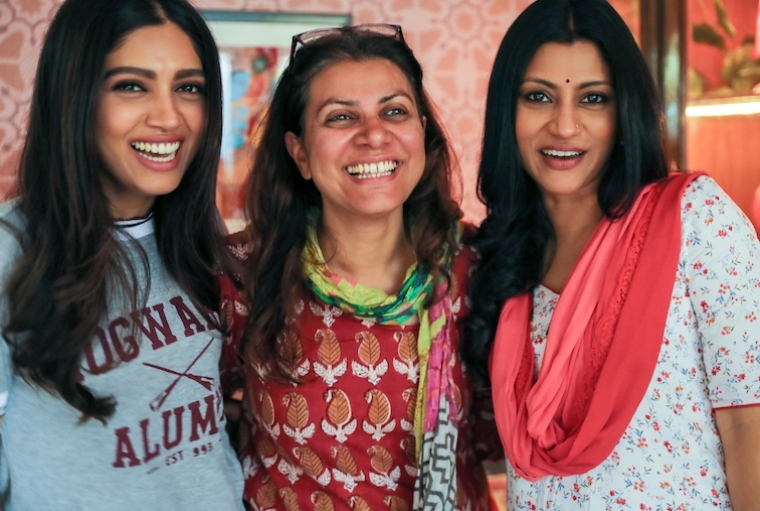 L-R: Bhumi Pednekar, Alankrita Shrivastava, Konkona Sen Sharma
You once said in an interview that features are more personal as compared to web-series, also because you write your own films. What is your creative process like?
I never start writing with the full story. I just know the characters and the world. I just let the idea take shape in my head, I let it grow for a while and then I start jotting down just thoughts about the characters. And then I start working on the shape of it and other things. But I must say that I am not very organised, I do not have a set process. I just know that something has to live with me for some time for it to actually take shape. There are a lot of times when thoughts never materialise into an actual script. When I'm writing, I just need my computer and I can write anywhere. I love writing in cafes, that's my thing. I write a lot on flights and I can write anywhere like that. But having a deadline really helps me, even though mostly they're self imposed.
In terms of directing, for me the preparation time is really important. The preparation and workshops that I do with actors, that's most critical because I need to know what their performance will be like before I start shooting. I spend a lot of time workshopping and knowing where the performance is going to go. So the actors come on set knowing everything about their characters and the various scenes and then we just develop it when we're shooting — this is a very critical process.
How would you describe Dolly and Kitty?
Dolly and Kitty are very different yet there is something similar about them. They're both very brave women, very full of life, very feisty. Dolly is a very excitable and chirpy kind of person, and she has decided that her life is perfect. She is constantly looking for happiness on the outside. Whereas Kitty is more earnest, determined, she's come to make a life in the city and she's more in touch with her inner self than Dolly. Dolly is very much in her own bubble, and Kitty is also observing how Dolly is, and is trying to reflect upon her own life by seeing things more clearly because she has come from the outside. Kitty has to make very difficult and practical choices, her finances are important for her and also she doesn't find the safety in living with Dolly because of Dolly's husband.
Her job is also not considered as ideal and great because she is selling romance on the phone. But if you think about it from Kitty's point of view, she's practical. And I think this is very interesting because she is very romantic but she always ends up making practical decisions, whereas Dolly is very scattered. She has too much going on and her journey is very interesting because she finally confronts all the baggage that she has been carrying inside of her. This is what I find very beautiful about Dolly, she has a graph, and Kitty has her own constant moral dilemmas and she keeps making the choice to somehow hold on. So Kitty has an eternal optimism which is very beautiful. They are both trying to find a little joy in their lives.
What do you want the audience to take away from the film?
I really want them to enjoy the rollercoaster ride of Dolly and Kitty. I want them to feel the ups and downs, their laughter, their tears, their broken hearts, their ambitions, their struggles, but also their dances of freedom. I just want people to take this journey with Dolly and Kitty and experience what they are experiencing. And to have that sense of empathy for these two women who are trying to make a life for themselves in this city and how they are grappling with themselves. So for me, it's just that I want the people to feel the joy that I felt while creating Dolly and Kitty. For someone to be like 'oh I get her' or even like 'why is she doing this.' For me, the journey would be complete if the audience is either rooting for them, or is like why are they doing this or why not, or she should not do this. Just that engagement with Dolly and Kitty, because when you engage with the characters, so many other larger themes become self evident and implicit in the moment. I always feel that you should lead with the characters and everything else that one wants to say just comes through if they identify with the characters.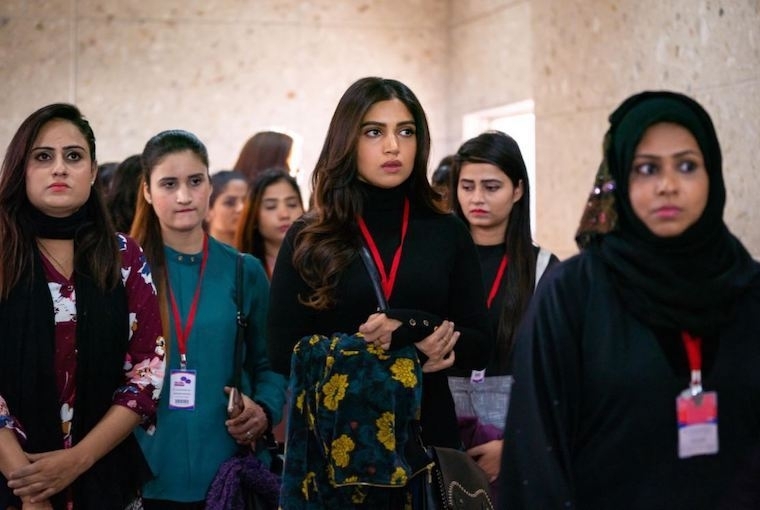 This film has Konkona in a prominent role and Vikrant makes a cameo in the film too. What was the casting process like?
So the first person I cast was Bhumi as Kitty because I felt like she has a very interesting combination of innocence and earnestness, and yet like this spark that she can give it back when she needs to. She was very very right for Kitty and I was very fortunate that when we took the script to her, she was immediately interested in doing the film. Dolly for me is a very complex part because she starts off as this flighty, excitable kind of person who is just in denial about her own inner life, and as the film progresses and things happen, she is forced to face everything. She has this transition and becomes much more intense by the end of the film. It really would have required somebody who can be both to play Dolly's part, and it really did need an actor of Konkona's calibre, to actually bring Dolly alive.
I have a very amazing casting director, her name is Shruti Mahajan. She cast for Lipstick Under My Burkha as well, and she's working with me on Bombay Begums also. Shruti and I have a great collaboration and honestly, apart from Dolly and Kitty, the credit for the rest of the cast completely goes to Shruti Mahajan. She worked really hard to find an actor for each and every part. We thought Vikrant Massey would be great to play Pradeep, and he's a lovely actor. Amol is lovely for Usmaan, Aamir Bashir as Amit for Dolly's husband, finding the two kids, and for Shazia, we cast Kubbra Sait. So all of this was very organic and a lot of credit goes to Shruti. She understands what I'm looking for by the reading the script, then we have a lot of discussions about the script, and she tries to understand what I want and finds the actors who'll be able to fulfill it. It's great to have somebody who gets what you need.
How has the pandemic affected you?
In the last few months of the COVID19 outbreak, I've been very fortunate because I've been very busy working. I've been working on a series called Bombay Begums, which is going to be out on Netflix. I'm working on the edit and the post. Actually this entire time for me, has been spent very productively and I was very fortunate, because we literally finished shooting on the fifth of march. And it really was a blessing. We narrowly escaped this whole thing. I'm very excited about Bombay Begums, and it has been very fulfilling.
Text Hansika Lohani Mehtani