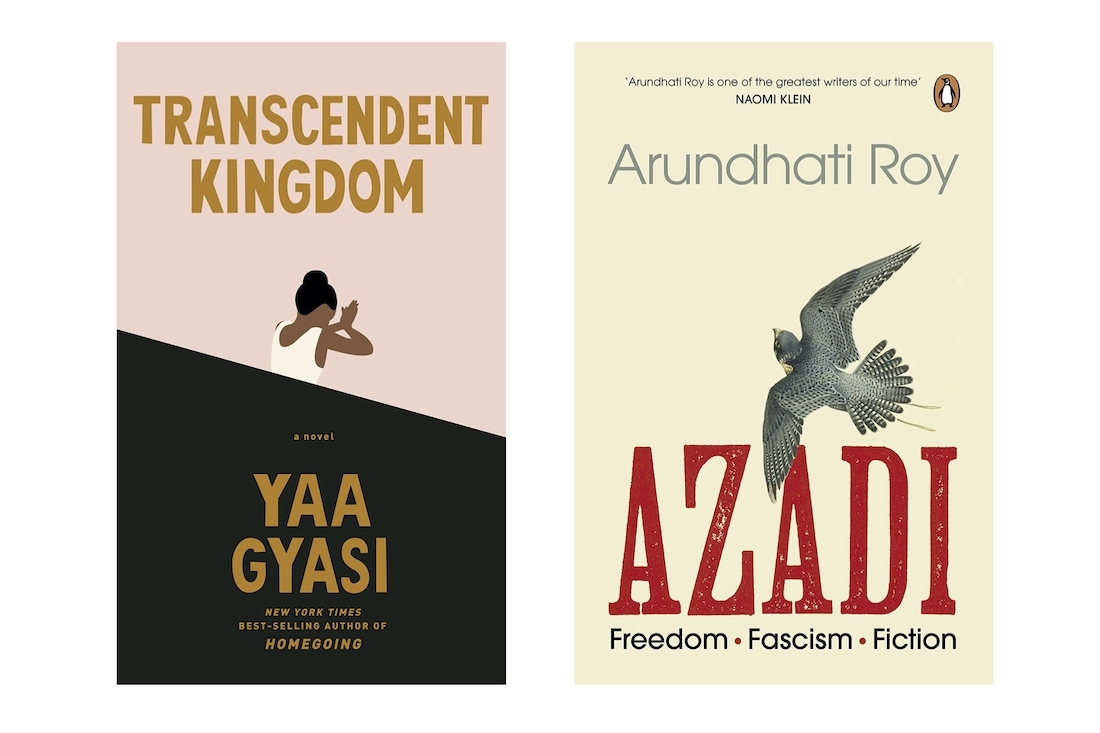 Must Calendar: September 2020
MUST READ
Azadi: Freedom. Fascism. Fiction by Arundhati Roy
In this series of electrifying essays, Arundhati Roy challenges us to reflect on the meaning of freedom in a world of growing authoritarianism. The essays include meditations on language, public as well as private, and on the role of fiction and alternative imaginations in these disturbing times. The pandemic, Roy says, is a portal between one world and another. For all the illness and devastation it has left in its wake, it is an invitation to the human race, an opportunity, to imagine another world.
Red Pill by Hari Kunzru
After receiving a prestigious writing fellowship in Germany, the narrator of Red Pill arrives in the Berlin suburb of Wannsee and struggles to accomplish anything at all. Instead of working on the book he has proposed to write, he takes long walks and binge-watches Blue Lives — a violent cop show that becomes weirdly compelling in its bleak, Darwinian view of life -—and soon begins to wonder if his writing has any value at all. Wannsee is a place full of ghosts: Across the lake, the narrator can see the villa where the Nazis planned the Final Solution, and in his walks he passes the grave of the Romantic writer Heinrich von Kleist, who killed himself after deciding that 'no happiness was possible here on earth.' When some friends drag him to a party where he meets Anton, the creator of Blue Lives, the narrator begins to believe that the two of them are involved in a cosmic battle, and that Anton is 'red-pilling' his viewers — turning them toward an ugly, alt-rightish worldview — ultimately forcing the narrator to wonder if he is losing his mind.
Transcendent Kingdom by Yaa Gyasi
Yaa Gyasi's stunning follow-up to her acclaimed national best seller Homegoing is a powerful, raw, intimate, deeply layered novel about a Ghanaian family in Alabama. Gifty is a sixth-year PhD candidate in neuroscience at the Stanford University School of Medicine studying reward-seeking behavior in mice and the neural circuits of depression and addiction. Her brother, Nana, was a gifted high school athlete who died of a heroin overdose after an ankle injury left him hooked on OxyContin. Her suicidal mother is living in her bed. Gifty is determined to discover the scientific basis for the suffering she sees all around her. But even as she turns to the hard sciences to unlock the mystery of her family's loss, she finds herself hungering for her childhood faith and grappling with the evangelical church in which she was raised, whose promise of salvation remains as tantalizing as it is elusive. Transcendent Kingdom is a deeply moving portrait of a family of Ghanaian immigrants ravaged by depression and addiction and grief--a novel about faith, science, religion, love. Exquisitely written, emotionally searing, this is an exceptionally powerful follow-up to Gyasi's phenomenal debut.

Climate Crisis and the Global Green New Deal by Noam Chomsky and Robert Pollin
In this compelling new book, Noam Chomsky, the world's leading public intellectual, and Robert Pollin, a renowned progressive economist, map out the catastrophic consequences of unchecked climate change—and present a realistic blueprint for change: the Green New Deal. Together, Chomsky and Pollin show how the forecasts for a hotter planet strain the imagination: vast stretches of the Earth will become uninhabitable, plagued by extreme weather, drought, rising seas, and crop failure. Arguing against the misplaced fear of economic disaster and unemployment arising from the transition to a green economy, they show how this bogus concern encourages climate denialism. Humanity must stop burning fossil fuels within the next thirty years and do so in a way that improves living standards and opportunities for working people. This is the goal of the Green New Deal and, as the authors make clear, it is entirely feasible. Climate change is an emergency that cannot be ignored. This book shows how it can be overcome both politically and economically.

Stranger Faces by Namwali Serpell
If evolutionary biologists, ethical philosophers, and social media gurus are to be believed, the face is the basis for what we call "humanity." The face is considered the source of identity, truth, beauty, authenticity, and empathy. It underlies our ideas about what constitutes a human, how we relate emotionally, what is pleasing to the eye, and how we ought to treat each other. But all of this rests on a specific image of the face. We might call it the ideal face. What about the strange face, the stranger's face, the face that thwarts recognition? What do we make of the face that rides the line of legibility? In a collection of speculative essays on a few such stranger faces — the disabled face, the racially ambiguous face, the digital face, the face of the dead — Namwali Serpell probes our contemporary mythology of the face. Stranger Faces imagines a new ethics based on the perverse pleasures we take in the very mutability of faces.
MUST WATCH
I'm Thinking of Ending Things
I'm Thinking of Ending Things is a 2020 American psychological horror film written, directed, and produced by Charlie Kaufman. It is based on the 2016 novel of the same name by Iain Reid. In the film, despite second thoughts about their relationship, a young woman takes a road trip with her new boyfriend to his family farm. Trapped at the farm during a snowstorm with Jake's mother and father, the young woman begins to question the nature of everything she knew or understood about her boyfriend, herself, and the world.
Release date: September 4
Where: Netflix
Cargo
Cargo is a 2019 Indian Hindi-language science fiction film written and directed by Arati Kadav. The film is produced by Kadav, Shlok Sharma, Navin Shetty, Anurag Kashyap and Vikramaditya Motwane. Starring Vikrant Massey and Shweta Tripathi in the lead roles, the story is set on a spaceship named Pushpak 634A where a demon Prahastha, works for the Post Death Transition services with the help of a female astronaut, where dead people are recycled for rebirth. Cargo initially premiered at the 2019 MAMI Film Festival under the spotlight section.
Release date: September 9
Where: Netflix
The Devil All The Time
The Devil All the Time is an upcoming American psychological thriller film based on the novel of the same name by Donald Ray Pollock. Directed and co-written by Antonio Campos and produced by Jake Gyllenhaal and Randall Poster, the film stars an ensemble cast comprising Tom Holland, Bill Skarsgard, Riley Keough, Jason Clarke, Sebastian Stan, Haley Bennett, Eliza Scanlen, Mia Wasikowska and Robert Pattinson. In Knockemstiff, Ohio and its neighboring backwoods, sinister characters — an unholy preacher (Robert Pattinson), twisted couple (Jason Clarke and Riley Keough), and crooked sheriff (Sebastian Stan) — converge around young Arvin Russell (Tom Holland) as he fights the evil forces that threaten him and his family.
Release date: September 16
Where: Netflix
Utopia
Utopia is an upcoming American drama web television series adapted by Gillian Flynn from the 2013 British original. In the genre-bending thriller, a group of young adults get a hold of a cult underground graphic novel, which burdens them with the dangerous task of saving the world.
Release date: September 25
Where: Amazon Prime

MUST LISTEN
Chemtrails over the Country Club by Lana Del Ray
Chemtrails over the Country Club is the upcoming eighth studio album by American singer and songwriter Lana Del Rey, set to be released on September 5, 2020
The Speed of Now Part 1 by Keith Urban
Available September 18th, Keith Urban's new studio album, THE SPEED OF NOW Part 1, includes current hit single, 'God Whispered Your Name'.
The Ascension by Sufjan Stevens
The Ascension is the upcoming eighth studio album by American musician Sufjan Stevens. It is scheduled to be released through Asthmatic Kitty on September 25, 2020. The album's single, America, was released on July 3, 2020. A music video for Video Game was released on August 13.