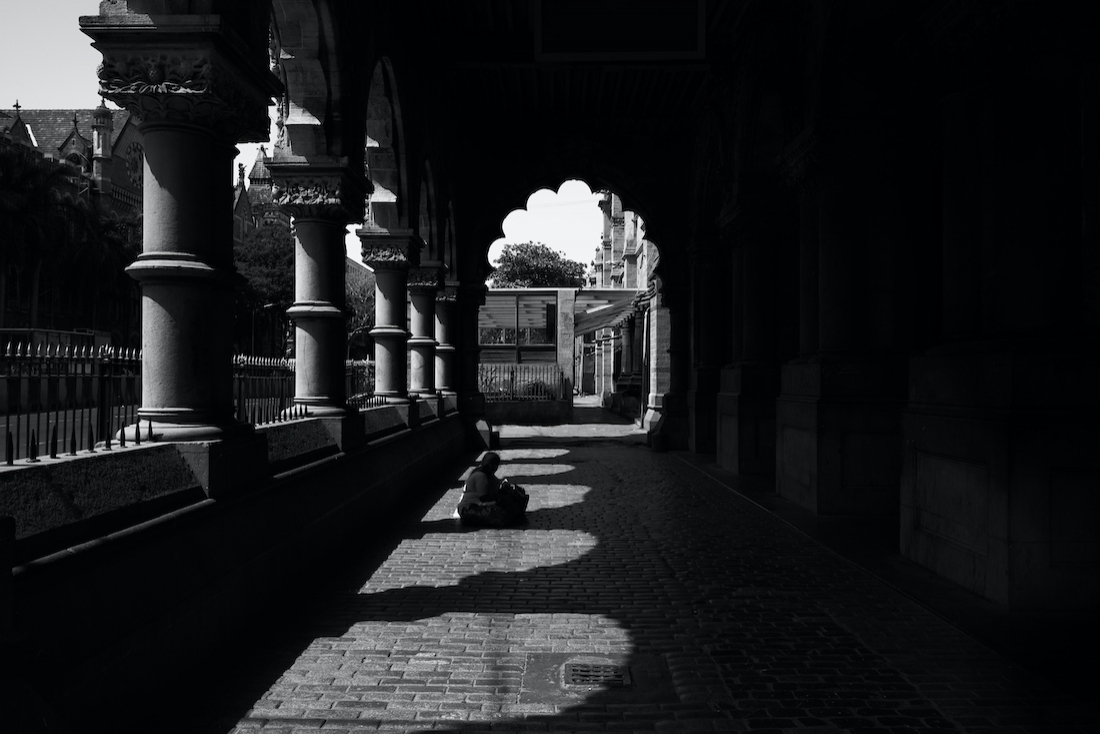 Homeless Woman, Victoria Terminus Station
Mumbai Lost and Found: Apeksha Agarwal
The Indian city of Mumbai is a chaotic, visually dense world that has been in constant motion since time immemorial. When the global COVID-19 pandemic caused a national lockdown, all that activity stopped abruptly as Mumbai's human animators retreated to the safety of their homes. A city in which it had been nearly impossible to find views unobstructed or unoccupied by people, whether of buildings, streets, plazas, or other public spaces, was suddenly empty, silent, and left visible as if for the first time.
These circumstances gave me a unique opportunity as a photographer, resulting in the creation of Mumbai Lost and Found. They allowed me to depict an urban India without the human element that always defines it in photographs. For the first time, because of this sudden depopulation, I was able to create images of my native environment that were not, by default, about a specific moment. I was reminded of Eugene Atget's late 19th- and early 20th-century documentary photographs of Paris, often taken in the first hours of daylight before the city woke up and further depopulated by the way his long exposures blurred moving figures into ghosts. No wonder Parisian surrealists loved his work.
When I was out shooting, I felt like the proverbial flâneur, that untranslatable French word for a strolling, detached observer. Yes, what I saw was surreal, but shooting it was also a transcendent experience that made me all the more conscious of the special qualities of the city in which I grew up. I hope that the photographs in Mumbai Lost and Found give viewers some sense of this personal revelation.

About The Artist
Working internationally from New York, Los Angeles, and her native Mumbai, India, Apeksha Agarwal specializes in fashion and beauty photography for both editorial and advertising clients. She turned to photography after completing her Undergraduate studies in Business and Management at the University of Exeter in the United Kingdom, followed by a career in Sales and Marketing. Recently, she earned her Master's in Digital Photography from New York's prestigious School of Visual Arts.
After working as an assistant to renowned Los Angeles fashion photographer Ash Gupta, Agarwal has gone on to photograph and work with actors, artists, models, and celebrities such as Preity Zinta, Alaya Furniturewala, Inja Zalta, Jade Weber, Tyler Shields, Abla Sofy and Raja Kumari. Agarwal's work has been featured in widely-recognized publications including Vogue, L'Officiel, Hello India, Cosmo Lady, and The Bombay Times. She also serves as the creative director and production manager on many such projects, which include music and fashion videos.
Her most recent fine-art project, Mumbai Lost and Found depicts the strange emptiness and silence that has overtaken this otherwise chaotic, visually dense city during the COVID-19 pandemic.